Thursday, April 26th, 2012
From a knitting perspective, last year was quite frustrating. On more that one occasion, I managed to run out of yarn before finishing a project. Some times it was by a just a small amount, other times I was completely off the mark. Running out of yarn is not something that I'm used to; in fact, I tend to buy way too much yarn. The cardigan that was in the last blog post? It's being knit from yarn left over from Matt's Henry scarf.
The Man Scarf was one project from last year that was a victim of my dufferism. I used the Ixchel Bison + Bamboo I won (and subsequently bought more of) at the Bendigo Sheep and Wool Show last year. This yarn has terrific yardage for an 8ply so at the time I thought I could get a Matt-sized scarf out of two skeins. I'm not a natural-born optimist so cannot imagine why I felt so confident about getting a long scarf out of 100g/320m. In any case, I was really wrong.
As the second skein ran out, the scarf looked short but I thought it might be ok if Matt wore it under jackets. When Matt tried it on, he looked like Laurel wearing one of Hardy's short ties. It really wasn't wearable as a two-skein scarf. Then I found out Charly from Ixchel fibres had sold out of the yarn. I wasn't mentally prepared for the yarn to be anything but a Man Scarf, so I asked for another skein on Ravelry. As it was not a widely sold, easily accessible yarn, I didn't hold much hope of finding another skein. Again, I was wrong.
Within an hour I had an offer of a skein. Within a couple of days the yarn was in my possession and I could finish Matt's scarf. Saved from knitting peril, not for last time, by the kindness of strangers.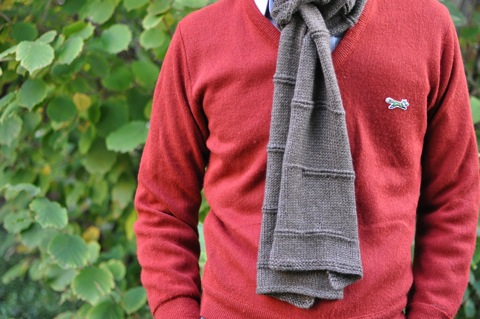 Man by ankestrick/fallmasche
Just shy of three skeins of Bison + Bamboo by Ixchel Fibres
4.00mm needles
Started: Septemberish 2011
Finished: April 2012
Modifications: knit 23 rows between sets of pleats rather than 24
Ravelryed: here
This scarf is essentially stocking stitch with some horizontal pleats. It doesn't seem that exciting, but the the horizontal pleats are fun to knit and they add a nice bit of texture to the smooth stocking stitch fabric. Because it is stocking stitch, the scarf has a lifelong ambition to curl. This isn't a big issue for Matt as he tends to wear his scarves in a way that is conducive to curling anyway.
The modification to knit one less row in between sets of pleats was to account for either an error in the pattern or an error in my interpretation of the pattern. The pleats are always worked on the wrong side of the fabric, so in my mind I needed to work an odd number of stocking stitch rows in between sets of pleats. Besides that possible error, the pattern was pretty easy to follow.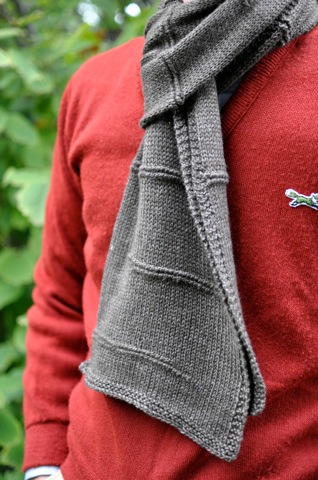 The yarn was really lovely to work with. The softness in the skein translates into soft, smooth fabric, and the bamboo content gives the yarn a lovely sheen. If I could buy more I would, but would probably stick to making smaller accessories with it. With all that bamboo, I'd be worried that a larger, heavier garment made from this yarn would lose its shape.
While this was a slightly suspenseful knit, the little bit of running around to find enough yarn to finish it was worth it. Before casting on, I had some doubts about whether it was the right yarn for the pattern, and vice versa. Soon after casting on, my doubts disappeared. The colour and texture of the yarn was just right for the scarf. I can't imagine making it in any other yarn.