A quick post…
July 18th, 2009
…using my parents' internet while I visit (and go to the Bendigo Sheep and Wool Show). If the internet gods are smiling upon us, we'll have the net at our new house this week. It's funny how reliant on the internet we've become; on the one hand it's a little frightening how our much of our lives revolve around it, but also testament to how useful it is.
The house is still a sea of boxes, but I have located all my knitting gear (A couple of projects came with me of course). However, as my current projects required a bit of concentration, I started a new, relatively mindless knit just for the moments here and there between packing, cleaning, and then cleaning and unpacking.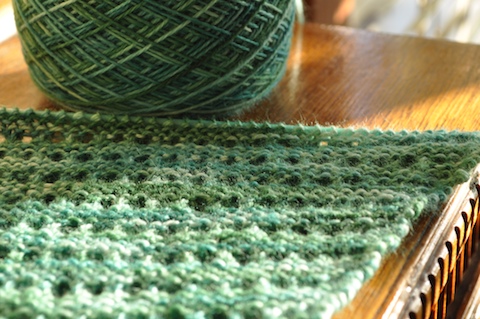 The original pattern is Baktus by Strikkelise, but Tehri from Mustaa Villaa posted a variation with a yarn over row. I'm not sure who it's for, but I'm enjoying the process of knitting it, so I'll deal with the recipient issue later.