Golden Hands striped vest
March 8th, 2011
It seems ridiculous that we've reached the third month of the year, and I've only just finished my first knitting project. If I'm being accurate, it was finished in late February, but that fact doesn't seem to diminish the level of ridiculousness. Anyway, enough grizzling. Onward and upward!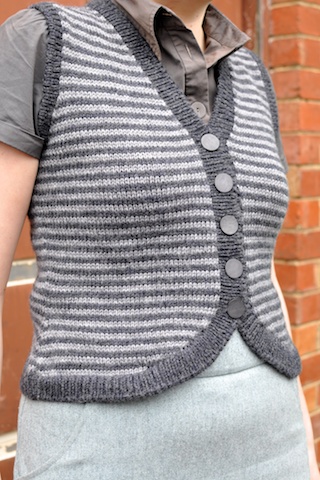 Tailored waistcoat from Golden Hands Volume 1 (page 6)
About 180g Bendigo Woollen Mills Rustic 8ply, Graphite
About 100g Bendigo Woollen Mills Rustic 8ply, Flannel
4.00mm and 3.50mm needles
Start: November 2010
Finish: February 2011
Modifications: none that I can recall
Ravelryed: here
I'm mostly pleased with how the vest turned out. The curved front pieces are a really nice touch, as is the invisible cast on which was used on all the ribbing. Almost all the ribbing was knit as separate pieces and seamed, which was a necessary evil given the cast on. I did notice though that the ribbing did not hide sloppy seaming; I ended up having to redo the ribbing around the armholes because my sloppy finishing resulted in the ribbing bulging out. Once I stopped being lazy and started paying attention to what I was doing, the ribbing came out really nicely.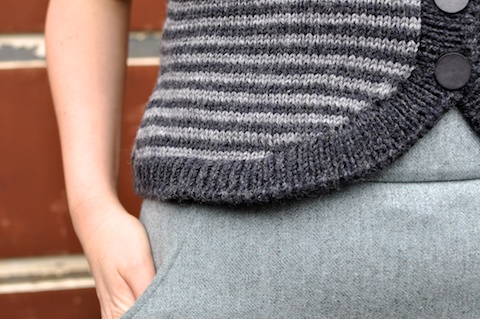 At the moment I'm hesitant to call the vest a success because of two pretty big things that I'm uneasy about. The first is the waist shaping: the shaping from hip to waist is pretty severe which makes that section jut out a bit. It's possibly only noticeable only to me, but if I had my time again, I'd space the increases out a little more.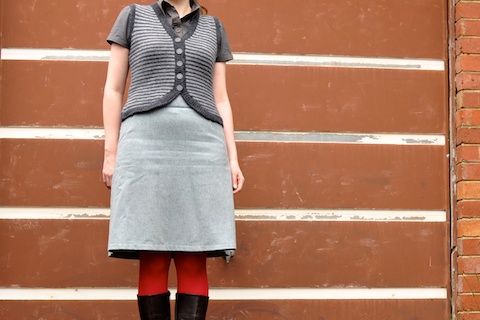 The second is the length: as I was knitting the back it looked like it was bordering on being too long, but when I tried it on, it was bordering on too short. I've given it a pretty severe blocking, but am not sure it's helped much. Unfortunately I've run out of graphite, so it's not possible to add in a couple more stripes. I'll just have to learn to live with it.
Although I have a couple of reservations (none of which I might add are fatal flaws, but merely things to be wary of), it is a pretty straightforward pattern and it makes for a nice plain vest. If you are interested in this pattern and are located in Australia, it's worth scouting around op shops as I often see copies of Golden Hands in the ones I frequent.
Now that I've finished something, it feels like my crafting year has finally commenced. It's such a relief to know that I'll have at least one finished project this year!