Higher, faster, stronger, purler.
February 13th, 2010
Today marks the start of the Winter Olympics, but more importantly, Ravelympics. For those not in the know, it's essentially a personal challenge to knit/crochet a project or spin yarn during the two week period of the games.
My knitting challenge is relatively meagre — another Henry, but in Malabrigo Worsted rather than Grignasco Tango, the yarn I used last time. I'm not 100% confident that I can finish it in time, but using a heavier weight yarn (therefore knitting up quicker) and a long day of travel in a couple of days will definitely help my cause.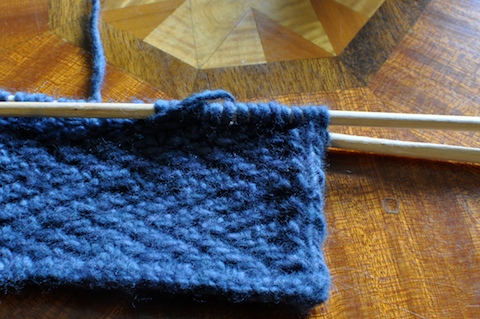 I tested out the travelbility of the project yesterday when knitting the swatch on a flight home from a conference. You will all be pleased to know that it passed the travel test with flying colours (excuse the pun). The swatch was knitted up on 5mm needles, which I am concerned creates a fabric that is too rigid, but a former swatch knitted up on 6mm needles didn't have great stitch definition, so the actual scarf will be knitted up on 5.5mm needles. The subtle colour variations in Paris Night come out quite nicely in the pattern too. The variation is not particularly noticeable except in the sunlight, but it's a nice feature.
Going back quickly to the travelability — this week was my first time knitting on a plane since restrictions were relaxed. It was hard to shake the feeling of being a naughty kid trying to smuggle contraband into the plane cabin, but it was great being able to keep my fidgetty hands busy from gate to gate. I'm keen to see how much Henry can be completed on a longer haul flight.