Madness, the final installment
January 19th, 2009
My dear partner's birthday happens to fall right near Christmas, which means that most knitted gifts aren't immediately useful. Despite this, I still made him Henry for Christmas. Well, it was intended as a Christmas present, but I didn't get it finished in time for either Christmas or his birthday.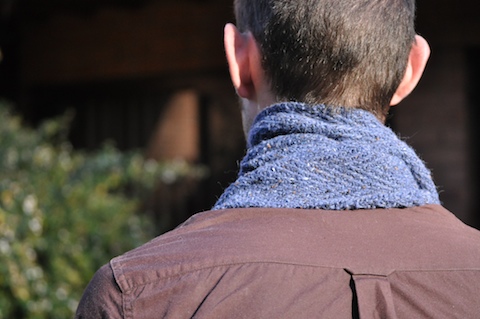 Henry by Mareike Sattler
1.75 balls of Grignasco Tango, shade 211
4.00 and 3.50 mm Addi circulars
Start: November 2008
Finish: January 2009
I made a few modifications to the pattern, starting with the yarn. I thought tweed and herringbone would go together nicely, but struggled to find a 4 ply tweed in a suitable colour. Opting for a slightly heavier weight yarn meant that I could reduce the number of cast on stitches… to 416.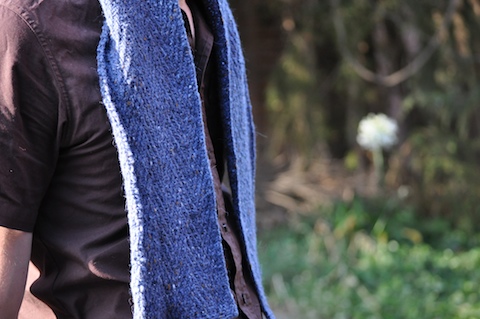 Before starting, I had read some criticisms of the pattern in regard to the cast on and cast off not matching. To try and get around this, I knit the ending rows a little differently to the pattern, knitting one row less, and finishing with a purl row rather than a knit row. This made it look a little more even, however I suspect that the stitch used in the scarf is just not conducive to looking identical at the cast on and cast off edges. I think this is largely due to the slipped 'bars' of yarn that form the herringbone pattern settling at the bottom of the stitch, making the space above the 'bar' larger than the space below the 'bar'. This all makes perfect sense to me, but I'm not sure if it will to anyone else!
I also opted for a cable cast on, rather than the tubular cast on. This was largely due to my eagerness to get started on the project, as I feel that the tubular cast on is a bit fiddly, and wouldn't add that much to the look of the scarf. Because I opted for a cable cast on, I cast off by knitting two together, then slipping the resulting stitch back onto the left needle. This made the cast on and cast off edges close to looking the same.
All in all, I am (and most importantly, he is) happy with how the scarf turned out. All indications suggest that when cooler days are upon us, the scarf will become useful. I also see another version of this scarf in my future, using some Malabrigo Worsted I have squirrelled away. I cannot say that it's the easiest knit in the world, but the effort that goes into it pays off handsomely.