Gift
November 17th, 2010
In a recent phone conversation with my sister, the topic of belated birthday presents for one another came up. My sister mentioned that she'd better finish my present off so she could give it to me when I saw her next. My curiosity was piqued by the use of the word 'finish' but I tried not to read too much into it. On the weekend I saw my sister, and the present exchange occurred. The little mite had knit me a scarf!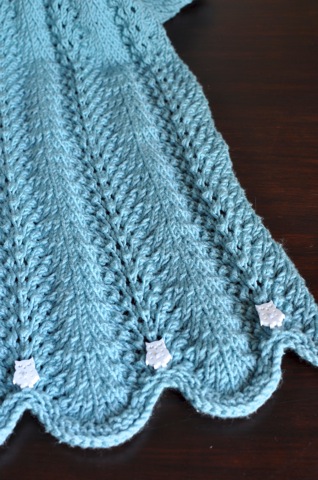 Not just any scarf, but a lovely feather and fan scarf. I'm immensely proud of her — she did a fantastic job, and the yarn she used (Sublime, she tells me) is so soft and warm. I'm not sure if it comes up in the photo but it's a bit crinkled because the weather's been cold enough for me to wear it.
Something that the photo hasn't quite picked up is the colour of the yarn. It's a bit greener than the photo makes out. A light duck egg blue, I guess is the most apt description.
The owl buttons are a really nice touch too. The white goes well with the light duck egg blue and I'm such a sucker for owly things so she must have known she was on a winner by putting them on.
I don't know if you read this blog, but thank you little sister, I love my new scarf to bits.