March 14th, 2016
This year's shade card from Bendigo Woollen Mills arrived right in the middle of a warm and very humid week, when anything associated with knitting seemed like the most unappealing thing in the world. Now that the temperature and humidity has dropped, I feel brave enough to crack the shade card open and have a squiz.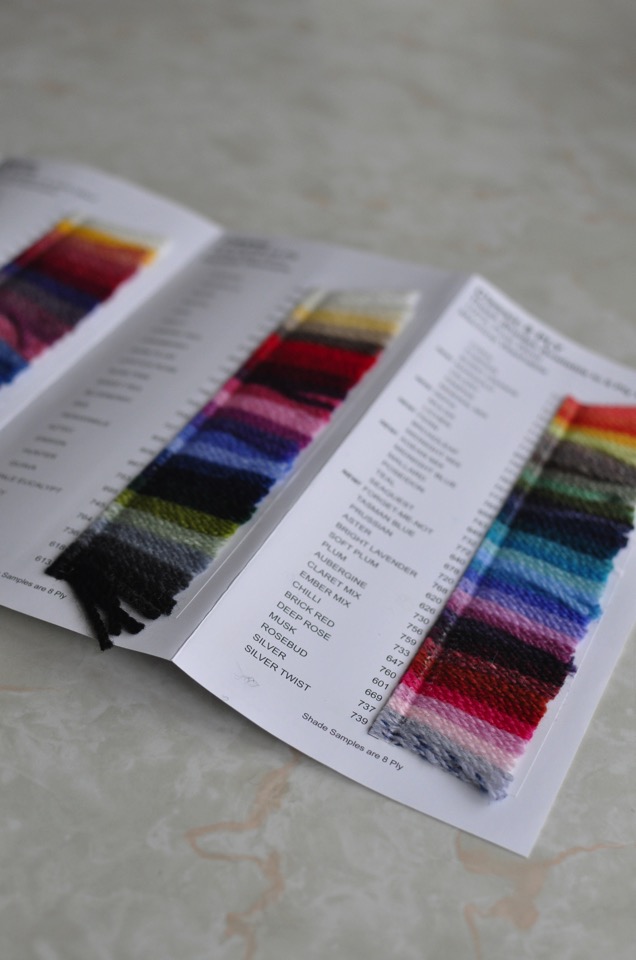 Luxury
Bubblegum (pink, shade number 356), Gumleaf (mid green, 357) and Shadow (light grey, 364) added to the 8 ply range
Shadow and Sunrise (bright red, 336) added to the 10ply range
Fuchsia (pink, 303), Sorbet (peach, 350) and Forest (dark green, 360) discontinued in the 8ply range. Fuchsia and Forest were also discontinued from the 10ply range.
Classic
Marigold (yellow, 769), Sepia (grey brown, 770), Fern (mid green, 771), Aegean Mix (dark blue marl,773) and Forget-me-not (light blue, 772) added to the 8 ply range
Grey (light grey, 764) added to the 2/3/5/8/12 ply range
Red Berry (light cranberry, 638), Denim Mix (blue grey marl, 676), Mulberry (pink/purple, 748), Blazer (dark blue, 754) and lilac (light purple, 762) have been discontinued in their entirety. Plum (dark purple, 626) is now only available in 8 ply.
Stella
Calcite (sunflower yellow, 162), Spinel (red, 163) and Purple Quartz (purple, 173) added.
Fluorite (light purple, 111), Purple Jasper (light purple, 117) and Beryl (magenta, 159) discontinued.
I'm really pleased to see bright, sunny yellows in Classic and Stella. Last year I bought a cardigans worth in similar shade from the Bendigo Woollen Mills back room (though not in Classic or Stella), so while I probably won't be buying more it's still nice to see it in the shade card. There's no discontinuations that are particularly distressing, so no panic buying for me.
How about you?