Wednesday, July 11th, 2012
Are you sick of reading about Pickadilly yet? I wouldn't blame you if you were. To be frank, I'm kind of sick of looking at it and thinking about it. It's been my main knitting project over the last few months and is now at a point where it closely resembles a finished project. However, I'm not sure if I want to finish it. In some ways, I feel like I'm in the same spot as I was when I first decided to put Pickadilly aside for a while.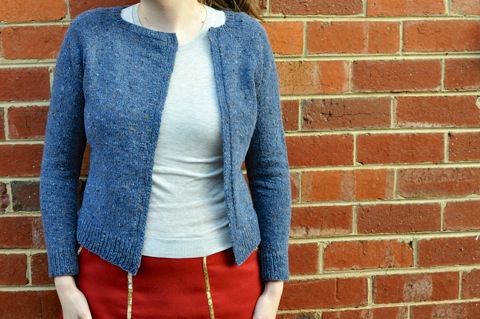 The cardigan itself is more or less finished; it just needs some buttons and it could be worn in public. I've been working on the crochet trim over the last week and due to my inexperience with the hook, it's been a battle. I bought some Madeline Tosh Lace in Milk to use for the trim, but after swatching it, it felt too delicate for the cardigan. More accurately, I had concerns that I'd get it caught on… stuff. So, I tried some cream Grignasco Bambi left over from my Victory Sweater. The colour match wasn't as good as the Madtosh, but I felt it was going to hold up a bit better to the trials and tribulations of being worn by me. In the mean time, I'd decided to leave the trim off the cuffs. Cream cuff trims + me = guaranteed disaster.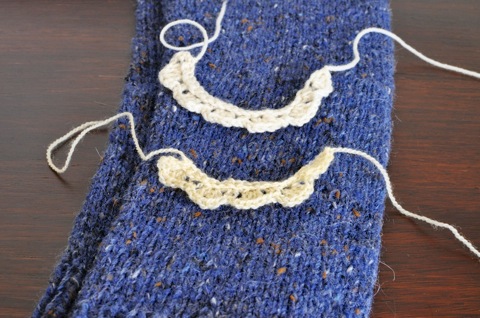 With the yarn for the trim settled, I measured the swatch, calculated how many chain stitches I'd need for the trim along the button band and around the bottom hem. Crochet is a slow process when in my hands; I don't feel comfortable with the hook, and I know my technique can only be politely referred to as 'unorthodox'. In any case, the trim took three or four nights to finish and when it was done, I put it up against the cardigan to admire my handiwork; it was about 10cm too long. Had it been 10cm too short, it could probably have been be blocked out and stretched along the edge of the cardigan. In this situation, I can't see any other option but to rip the trim out and start again. As it is I don't think I have the will or the bother to keep going with Pickadilly. After seeing this boatneck jumper on Ravelry on the weekend, I'm now considering whether I should frog the cardigan completely and use the yarn to make that simple jumper.
The prospect of frogging Pickadilly was mentioned to Matt a couple of nights ago, and he suggested that it would be a waste of all the time spent swatching/knitting/modifying/swearing. It's true that a lot of time has been spent on this project, but I don't think it's a waste. After all, I can't get that time back, so there's no point trying to salvage something just because I spent a lot of time on it. It's also made me look at the construction of garments and look over patterns with a more critical eye than I have previously. It's a project that's taught me that persistence can pay off sometimes; the sleeves, for example, worked out really well.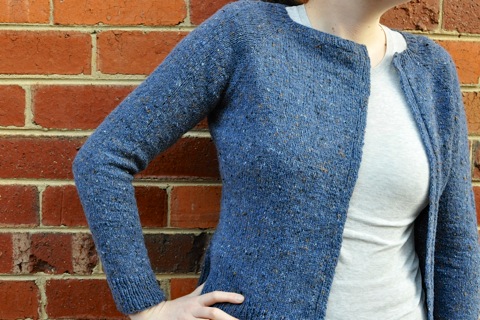 Aside from the time spent on it, the other point to consider is whether I'd wear it once it was finished. Without the trim, I doubt I would. Even with the trim, I don't know if I would wear it all that much. If it hadn't been such a struggle, I'm sure I'd be more inclined to wear it.
So, with all that sooking, I'm keen to get some views from outside the Pransell household. Am I completely mad to be considering frogging something I've invested so much time in and am so close to finishing?