Procrastination Station
February 5th, 2012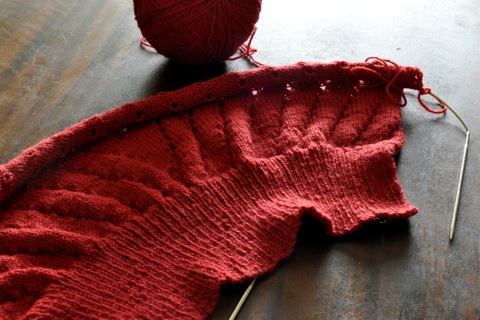 What I should be doing:
Writing posts about the 1.5 FOs completed in the most recent unplanned blog break.
Writing a post about how impressed I am with Cleckheaton's Country Vintage Blends 8ply, which features colourways from a 1965 shade card. I think it's a great idea and hope it'll spawn more 'vintage blend' colourways from them.
Finishing one toy turtle, one capelet and one top, all of which are nearly finished.
What I have been doing:
Working on my Jan Sweater. It's going pretty well, given it's knit up in 4ply yarn.
Re-watching Mad Men, starting from season one, episode one.
Writing lazy dot point blog posts so I can get back to watching Mad Men and knitting Jan.
For the Mad Men fans out there, this post (featuring spoiler alerts for season four) about Mad Men fashion predictions will whet your appetite for season five, which starts at the end of March. Also, I'd completely forgotten how little Sally Draper was when the show started. So little!