Pickadilly update
June 3rd, 2012
There are a few things I mentioned in previous posts that require updates. One is ginger beer, the other is Pickadilly. The only impediments to me posting updates have been time and light. Time, or lack thereof, is a common ailment, as is light at this time of year. The days are shorter and the light levels have been hovering around 'miserable'. In some ways the light situation has been a blessing, as it allows me to make some real proper progress on my craft projects. This is definitely the case for Pickadilly.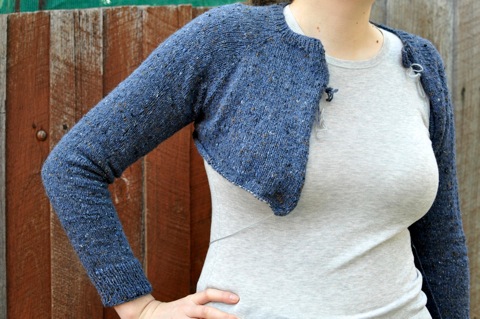 Almost as soon as I posted about being off my knitting, I started working on Pickadilly again. In between my last post about Pickadilly and now, I did the following:
Ripped the sleeve and body back to the yoke
Shortened the yoke by a few rows, making the armhole a little bit smaller and reducing the amount of fabric underneath my arm
Started the decreases for the sleeves earlier, and added more decreases in total
As a result, my Pickadilly now comes with a fully functional sleeve. I cannot lie, it was a battle getting the sleeve to a point where I was happy with the shaping. However, once it was actually done, it felt like a victory rather than just being another completed part of the project. The shaping isn't perfect by any means. There's probably still a bit of excess fabric under the the arm, but I still feel it's an improvement on previous attempts. In other words, I will not be attempting the sleeve again. Now that the sleeve shaping issues have been solved (more or less), I hope that my fixation with the amount of fabric under my arms will end. It's a bit disturbing.
The second sleeve is now underway and, predictably, it feels like it's working up a lot faster than the first. I have started and finished the decreases and it's well past the elbow. Something that has helped the progress of the sleeve is cold nights combined with TV. In particular, I've started watching Friday Night Lights after reading lots of positive bits and pieces on twitter and on DrK's blog. It's one of those shows that I could quite happily watch episode after episode, but Matt is rationing it out. This is probably to stop my eyes from going square. Even with the rationing, it's provided a good amount of uninterrupted knitting time.
Although it's been a relief to be making good progress on Pickadilly, it feels strange to be working on something modern. Since mentioning the year of vintage knits last month, my knitterly thoughts have been largely taken up by mental notes and plans for next year. I've started looking through my pattern collection and pairing patterns with stash, and started thinking about yarn I might need to buy for particular patterns. I'm not sure how many FOs I'll end up with next year, but I'm looking forward to the process. It's going to be fun.