The ghost of a year gone past
January 3rd, 2010
It's impossible to leave the last finished object for 2009 go unblogged. Victory is finished!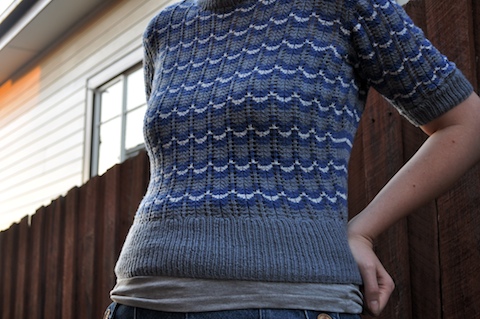 Your Victory Jumper by Home Notes (via the Victoria and Albert Museum)
2.5 balls grey Grignasco Bambi, 1.5 balls royal blue and 0.5 balls cream
2.75 mm and 3.25mm needles
Started: June 2009
Finished: December 2009
Modifcations: lengthened and added another repeat, stitch wise, to the body
Ravelryed here
If you heard strains of The Halleujah Chorus floating on the breeze sometime last Sunday, it was likely coming from me as Victory was unpinned from the blocking board. It was not so much the relief of finishing, but the excitement that she could finally be worn. I already love it to bits.
The lace pattern came out really nice and crisply with the yarn, and although I opted for a non-patriotic colour combination (the pattern was published in England just after VE Day, and recommended the use of blue, red and white yarn), I'm quite pleased with how well the grey, blue and cream worked together.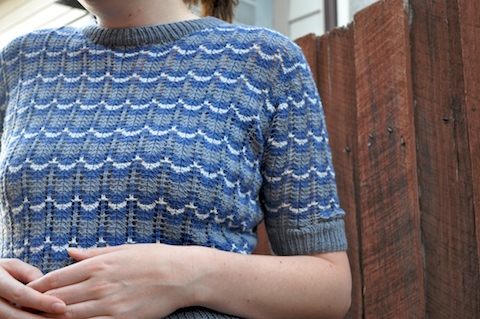 I found the sleeve's shoulder cap construction a bit strange, in that there was no cast off at the armpit, just a gentle decrease from there to the top of the shoulder. This did make it a little difficult when seaming but the sleeve and body stripes match up, so I'm happy.
If you are interested in WWII era knitting patterns, it's worth looking at the collection hosted on the Victoria and Albert Museum's website. I tend to think Victory is the pick of the bunch, but there are some other nice patterns on there that I'd consider making down the track, once my pattern queue and stash has diminished significantly.