The year of the vintage pattern
May 1st, 2012
Last Saturday the Brunswick Mini Wool Expo was held at the Brunswick Town Hall. It's a pleasant way to spend time on a Saturday morning, running into and chatting with friends, looking at yarn and, in my case, sorting through old patterns. I didn't buy any yarn this year, but did spend quite a bit of time going through piles and piles of old patterns. In the end, I picked up quite a nice collection of bits and bobs to add to the pattern stash.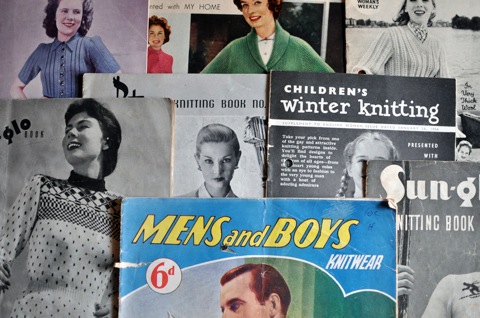 There are lots of patterns in this mini-haul that I would knit, but this one is my favourite: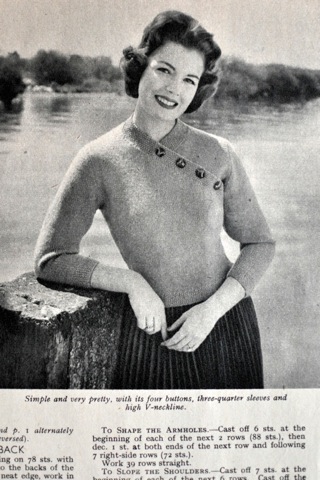 There's nothing particularly exciting about a stocking stitch jumper with seed stitch trim, but it does remind me of a jumper worn by a lady in a vintage shop I visited nearly ten years ago. Even though it was a long time ago, I still remember it pretty well; it had the same high cross over, but it didn't have any buttons and the sleeves were a tad longer. It's a jumper that I've wanted to make for myself, and I even went so far as to sketch it a couple of times. Like a lot of things, it never got past being a kernel of an idea, so I was really excited to come across this pattern. It's unlikely that I'll be making it this year, but I've started thinking about colours already. So far light yellow, mustard yellow and brown are the front runners.
It's always fun to pick up 'new' vintage patterns, but this mini-haul also reminded me that my pattern stash is a bit of a mess at the moment. I really need to sit down and spend some quality time with both my yarn and pattern stashes to get them more organised and to also pare them down. The biggest problem I have with my vintage pattern stash is that I never seem to use it. The hunt for 'new' pattern books is always fun, but that seems to be where it ends. There's very few patterns that I've collected that have turned into finished objects, and yet they're some of the projects I've been most proud of.
Perhaps next year can be a year of vintage patterns? There are certainly more than enough patterns in my stash that I'm interested in making, and by then my yarn stash should be small enough to accommodate more yarn… I might be calling it too early, but I'm going to do it now. 2013 is going to be a year of knitting from vintage patterns.