Giving up is not really giving up
March 13th, 2011
At what point in a project do you decide to frog? Usually I have no qualms about frogging something and starting again if it's not right. However, I'm currently in the midst of a project where I have a nagging feeling that perhaps I should completely frog, but I can't quite bring myself to take the needles out and spend some quality time with my ball winder.
The pattern is Pickadilly. Since starting it in July last year, I've had issues the yoke, the waist shaping and the sleeves. It's such a shame because I was so excited to start on this project, thinking that I'd found the perfect pattern to go with the Grignasco Tango I had in my stash.
I still think the cardigan looks great in the smokey blue tweed. After re-knitting the waist, I think I've got it pretty spot on for my body. However, I'm now onto the sleeves and thinking about frogging the lot and trying it again sometime in the future. A few people on Ravelry have mentioned that they have needed to modify the sleeves and I'm no exception. I'm now on my third attempt at the sleeves and even with heaps of decreases, there seems to be too much fabric around the underarms and the sleeves seem too baggy. To me that suggests that there's issues at the yoke which means a lot of frogging, but it may also just be a side effect of knitting a raglan from the top down.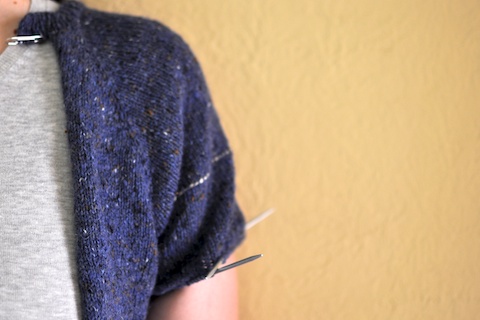 It pains me to think it might be best to cut my losses and frog the lot. It's almost a point of pride that I'll finish a project no matter how long it takes; Matt's suave sweater is testament to that. But this feels different. As much as I like the idea of the cardigan, I've really struggled with sections of the pattern and I'm frustrated with it.
I really must apologise for the tone my posts have been taking of late. While I'm not a particularly cheery person in real life, I try not to be too negative here. Thank you for bearing with me while I vent my spleen a little, I promise you slightly sunnier posts are on their way!