Book Review: A Stitch In Time
May 23rd, 2009
One of the many wonderful things about Ravelry is that you can see what other people think about patterns in books you're thinking about buying. Nonetheless, I still think there is a place for knitting book reviews.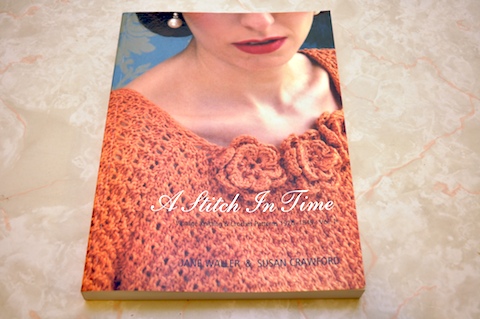 A little while ago I picked up this book: A Stitch In Time – Vintage Knitting and Crochet Patterns 1920-1949: vol.1 by Jane Waller and Susan Crawford. The knitting patterns I like the most are from the 40s to the 70s, but after seeing some of the patterns on Ravelry, I thought it a good idea to obtain a copy, pronto. I wasn't disappointed.
While the patterns are the major drawcard of this book, the little details are just lovely. The major title, A Stitch In Time, is embossed in gold. A little thank you card was placed inside the front cover, the pattern names are exactly the same as the original pattern, and the original patterns are included alongside its modernised counterpart. One thing I did find surprising was the paper used – it's quite thin, thinner than other knitting books I own. That's not necessarily a criticism; given that the book's over 300 pages long, heavier paper would have made it quite the tome. I will have to be super duper careful to not damage the pages though.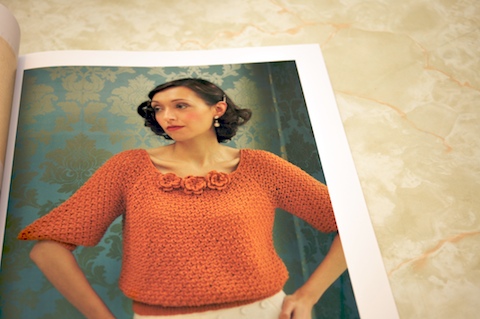 The patterns themselves are good mix, broken into several sections – The Tubular Look (1920-1932), The Feminine Look (1933-1935), The Fitted, Tailored Look (1935-37), Smart Suits and Puffed Sleeves (1937-40) and The Square Look (1940-1949). The designs from the earlier chapters generally do not suit my body shape or are not to my taste, but there are many patterns in the later chapters that I'd like to knit for myself.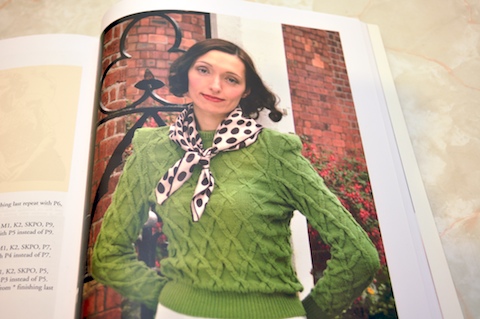 I haven't tried to knit anything out of this book so I can't comment on that aspect. I do have yarn stashed away that I think would look lovely as a Bluebird Sweater (pic above). What I like the most is the concept – bridging the gap between vintage and modern yarns and patterns. I think working with vintage patterns, while lovely garments, is more of a hassle than modern patterns. With the exception of mainstays like Patons Bluebell, you have to find a suitable substitute yarn, sizing is generally limited, and vintage patterns seem to assume a lot more knowledge than most modern patterns.
I'm really looking forward to volume 2.