Wavy Line
March 21st, 2012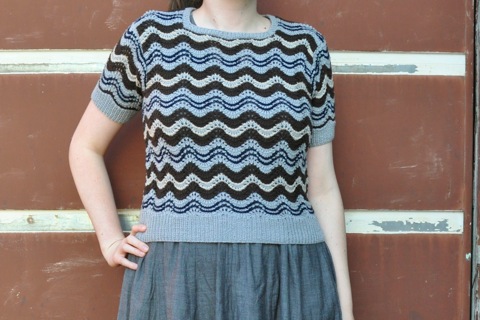 Wavy Line Sweater by Sarah Dallas
Around 225g Grignasco Bambi in total, using light blue, chocolate brown and cream
3.75mm and 4.5mm needles

Start: April 2011
Finish: March 2012
Modifications: added about half a repeat (20 rows) to the body, adjusted stripes on sleeves to match
Ravelled: here
Huzzah, Wavy Line is finished and I'm pleasantly surprised by how much I like it! It doesn't feel like it's been a WIP for nearly a year, but Ravelry says I started it in April 2011, so it must be so. It was one of those projects that I worked on in dribs and drabs; projects that use four colours aren't particularly conducive to commute knitting so it had to stay at home for the most part.
Over the last few years, I've managed to collect quite a few different colours of Grignasco Bambi. This pattern was a good way to put a dent in the collection. It took a bit of mixing and matching to come up with a combination of four colours that weren't too loud, but I think I succeeded.
One of the drawbacks of using four colours in a pattern is all the ends it generates. I know I made work for myself by only carrying the two main colours, light blue and chocolate brown, up the side, but I felt that carrying all four colours could affect the tension on one side and make it a bit bulky. These are only some of the ends that needed to be woven in: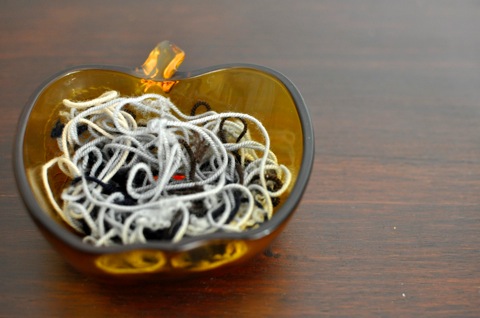 I didn't keep a count of how many ends there were in total and I'm glad I didn't. If I'd known how many ends needed to be woven in before I started, it'd probably still be unfinished. Sometimes it's best just not to know.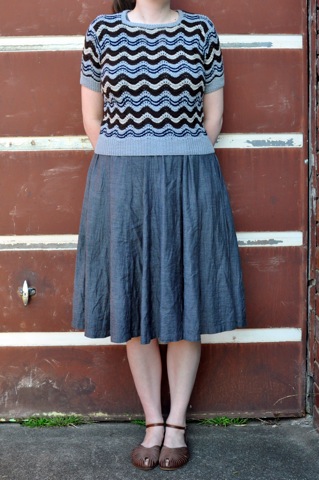 The fit is a bit different to what I expected but I'm still happy with it. As I was knitting it up, I imagined wearing it with pencil skirts, but now that it's finished and gone through the process of being tried on with other things from my wardrobe, I think it looks better with A-line and fuller skirts. The fit around the armpits is a little funny because of the unusual construction of the sleeves and armscyes. There is only a little bit of shaping at the very top of the sleeve and all armhole stitches are cast off in one lot, rather than gradually. This construction made setting the sleeves really easy, but the fit was probably not as good as a more traditional set in sleeve.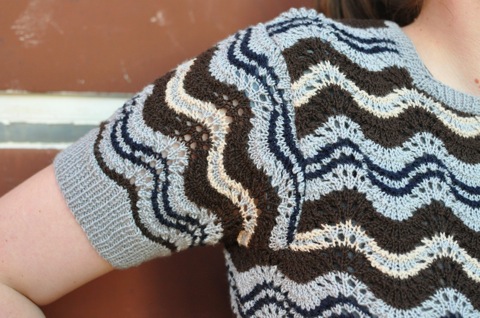 If you are considering knitting this pattern, I highly recommend checking out this great post comparing the two patterns. It gives a really good rundown of the pros and cons of each pattern. For what it's worth, I found the Sarah Dallas Vintage Knits version of this pattern pretty clear and easy to follow. It had a pretty big drawback in that the pattern only came in one size, but luckily it was the right size for me. It wasn't the most enjoyable project I've worked on, but I'm pretty happy with the result and I can move onto another WIP that's been kicking around for far too long…