Wednesday, March 14th, 2012
This year's Labour Day long weekend snuck up on me. Instead of willing time to speed up so the long weekend was upon us, I only realised on Friday that Monday was a public holiday. Surprise! Even with such short notice, I was able to quickly assemble a list of things to get done over the three days. The list only contained two items and both of them knitterly; to finish off my (unblogged) Wavy Line Sweater/Allouette, and to get to the armhole decreases on the front of my Jan Sweater. Now that the calendar indicates that Autumn is here, I really need to get a wriggle on and finish the two short sleeved tops that have been on my needles for a little while now.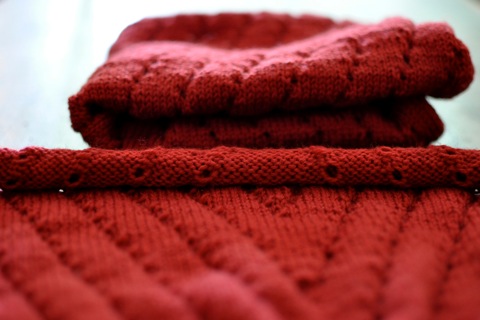 I only managed to cross off one of the items on my list, which was to get to the armhole decreases on my Jan Sweater. The back is already done, so that should mean that I'm not too far away from finishing it. It's been a fun knit thus far and expect (nay, demand) it'll remain fun right up until it's finished. It's easy enough to work on while watching Mad Men, but the periodic yarn overs make it interesting.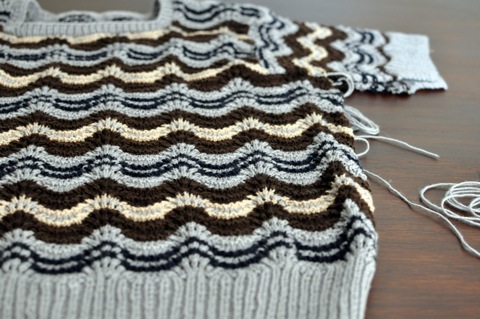 Even though I didn't end up finishing my Wavy Line Sweater/Allouette, I'm still pretty happy with how it is coming along. One side is completely seamed up, and I'm about half way through the other side. In theory, this means it's even closer to completion than the Jan Sweater. I can't say I'm enjoying the process with this project like I am with Jan; it's been on the needles since April last year and I think when it is done, I'll just feel relieved. It's a bit of a funny pattern in that I originally saw it in Sarah Dallas' Vintage Knits as 'Wavy Line Sweater', but then subsequently saw a slightly modified version, also by Sarah Dallas, in Rowan's Vintage Knits. Even though I've been working on the Wavy Line version for nearly a year, I'm still not sure how I feel about a very similar design by the same designer in two different publications. It's one thing for a designer to have favourite design elements which they use in a number of different patterns, but in my mind this skates rather close to recycling the pattern.
There were a couple of little distractions which meant I didn't get Wavy Line/Allouette finished on the weekend and all of them revolve around the weather. It was perfect timing really, three lovely sunny (but not hot) days for the long weekend. You can never be sure if this is the warm weather's last hurrah for this year, so I made sure I spent at least a little bit of time outside. Instead of seaming up my knitting, I did a wee bit of gardening: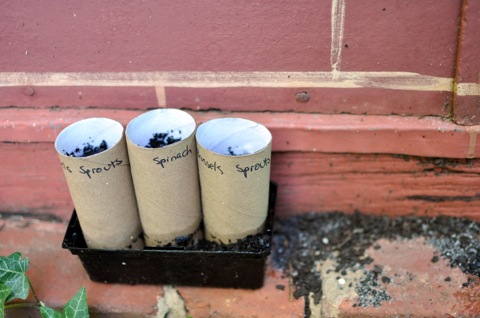 Went for a little pootle on one of my bikes: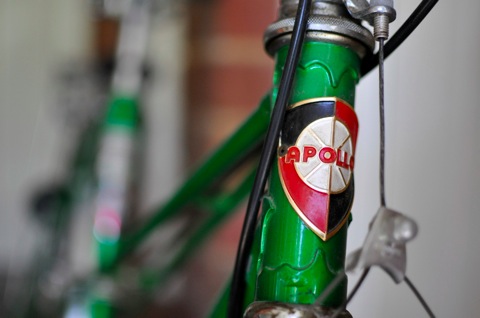 And started a ginger beer plant. I'll spare you a photo of the yeast/sugar/ginger/water mix. It's not particularly attractive (or at least, less attractive than toilet paper rolls and potting mix) and I don't want to scare the yeast into dormancy by taking photos of it. Making ginger beer really should have been something I did, or started, during Spring or Summer, but when your mind says 'make ginger beer', sometimes you've just got to go with it.