Saturday, April 14th, 2012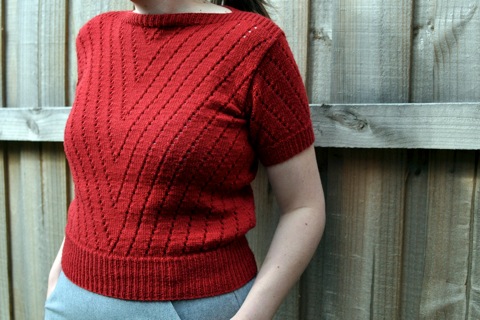 The Jan Sweater from A Stitch in Time, Volume 2
Yarn: Bendigo Woollen Mills Luxury 4ply, Brick
Needles: 2.75mm and 3.25mm
Modifications: Made the body longer, sewed up the neck to make the neck opening smaller
Started: February 2012
Finished: April 2012
Ravelryed: here
If you are contemplating knitting this jumper, stop what you're doing and cast on. It's an easy, but fun, pattern and it makes a lovely top. I really enjoyed making it, and since finishing it a week ago, I've worn it a couple of times. It's the first pattern I've made from the Stitch in Time series (despite buying the first volume nearly three years ago) and I'm simultaneously impressed and kicking myself for not starting on patterns from the books earlier.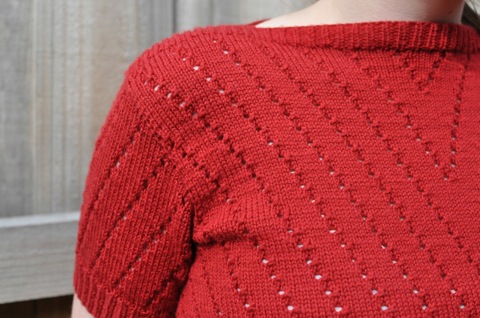 The usual modification of lengthening the body applied to this pattern. The other modification was to make the neck opening substantially smaller (by about 10cm on each side). I think this makes the top more casual than if the neck was left completely open, but I feel more comfortable with my shoulders covered up.
While seaming it up, I started to become concerned about the blousing above the ribbing. During a mid-seaming try-on session, the blousiness was creating doubt about whether this top was going to work for my body shape. However, as soon as the sleeves were set, it all balanced out and order was restored to the world.
As a side note, I should point out that for the size I made, the 34-36 inch, the sleeve cap only just stretches enough to fit in the armhole. I found there was little room for seaming error, but it looks fine when the sleeve's set, and doesn't feel tight or uncomfortable when worn.
This project was not my first experience with Bendigo Woollen Mills' Luxury, but it was the first time I'd used the 4ply version. It doesn't seem logical that the difference between the two weights would be substantial, but I much preferred working with 4ply Luxury than 8ply Luxury. It's soft, but feels fairly hard-wearing. I definitely want to use it again, and it makes me feel even sadder that I missed out on buying some Oceanic before it was discontinued.
It would probably make sense to use this momentum to cast on another vintage project or another project using Luxury 4ply. However, I'm going to do something a bit different; I'm going to be sensible and continue to finish off WIPs that really should have been finished a long time ago. Little by little, I'm becoming a somewhat responsible grown up.