Ricking and a'racking
July 13th, 2011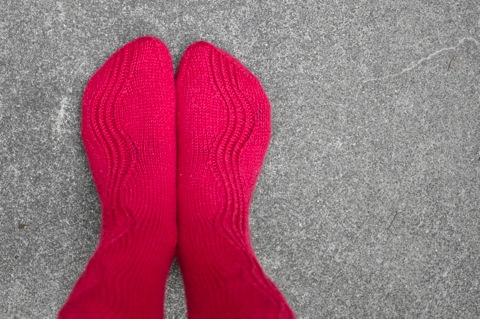 Kalajoki Socks by Tiina Seppälä (rav link)
4.5 balls Patons Patonyle 8ply, red
3.25mm DPNs
Start: June 2011
Finish: July 2011
Modifications: see below
Ravelryed: here
It may not seem like it, given how close this post is to the start of the Sheep and Wool Show, but I finished my Kalajokis with plenty of time to spare. Sadly the weather gods have not been smiling upon me lately, so I've had to wait for half-way suitable photo weather, before writing this post.
The biggest modification made to the pattern was to make the socks knee-length rather than calf-length. If you're interested in making knee length ones yourself, these are the modifications I made:
Cast on 74 stitches rather than the 54 given in the pattern.
Knit 14 rows of twisted rib for the cuff, rather than 10 rows given in the pattern.
Starting with the first row after the ribbing, I decreased 2 stitches every 5 rows 10 times (54 stitches remaining).
Knit around about 2.5 repeats of the river ribbing for the leg, rather than the 1.5 repeats (give or take) given in the pattern.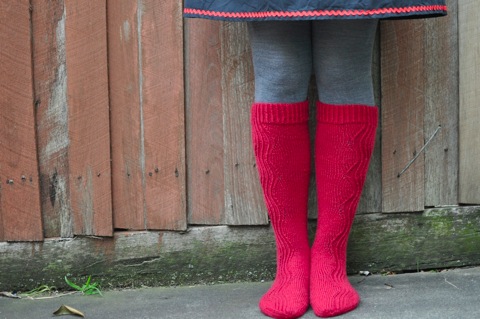 The calf shaping is pretty crude, particularly when compared with the shaping used in the Delicious Knee Sock pattern. That said, the socks seem to stay up and it looks fine, which is all that matters really.
It was a really enjoyable pattern to knit; not something that I could work on without concentrating on it a little, but still simple enough to take along to a Stitch n Bitch. The rib snaking down the side of the socks is really striking and reminds me of ric rac a little bit. Not sure if anyone else sees that though…
The Patonyle 8ply I used makes for a lovely soft and warm fabric. Sadly, it also made for a sock that is too thick to fit in my everyday boots which is a bit of an issue. However, I do have a backup plan so I should still be able to wear them this weekend.
In my excitement about getting the socks finished in time for Bendigo, I completely forgot to think about the knitting that I should take with me and don't have anything suitable on the needles. Such a rookie mistake! The current frontrunner is a Turn A Square for Matt using leftovers from my stripy knee high socks (he's brought me enough cups of tea to warrant a beanie), but I cannot rule out a last minute change to the lineup…