Challenge
June 7th, 2011
The Bendigo Sheep and Wool Show is next month, so my mind has turned to the most important part of the event: what knitting to wear. July in Bendigo is almost without fail freezing cold, making it perfect for showing off a knitted item or twelve. Last year I was a pretty bad ambassador for my knitting, with my Henry being the only handknit I wore. Matt, on the other hand, was a far better billboard for my knitting; he wore his suave sweater, Claudius and his Henry. As scary as it is that I can remember which handknits we wore, it's probably even more frightening that we wore matching scarves last year. Keep an eye out for us this year, we'll be the ones wearing matching jogging suits…
It's a modest goal, but I'd like to finish the knee high Kalajokis for Bendigo this year. It's probably more accurate to say start *and* finish as I haven't started the Patonyle versions yet. In fact, the Allegro ones are still sitting on my desk waiting to be frogged. These things take time!
Before starting the Kalajokis, I should finish my stripy knee highs. Not that there's too much to go now; I'm currently half way through the increases on the second sock. The increases on the first sock felt so slow, but on the second sock they signal the downhill run so they're flying by. By sheer coincidence, the Noro stripes match up almost perfectly. I'd been mentally preparing for a pair of fraternal twin socks, but here I am with a pair of almost identical twins. Silly as it is, I feel almost let down that they're turning out perfect.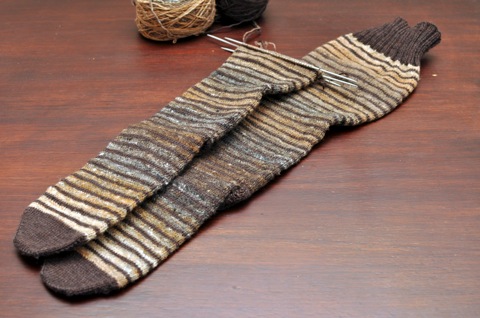 Last but not least, thank you everyone for your lovely comments about my vest. You've motivated me to not only try wearing it again, but to also start thinking about possible colour combinations for another vest. I could rip back part of the original vest and fix up the problems, but I want to keep it in its slightly dinky state. Making another one, a sort of do over, seems a pretty good compromise to me.