A wee vest for a wee girl.
March 11th, 2012
I often wonder whether there's a use by date for writing about 'new' FOs. For example, the vest mentioned in this post was finished in mid January. Now that it's March, it feels strange to be writing about the vest, particularly when there was nothing stopping me from writing about it back in January (unlike Manu, where it was a gift that I needed to keep quiet about). I guess the moral of the story is to blog more often so I don't have to ponder these things. Anyway, here's a new/not really that old FO: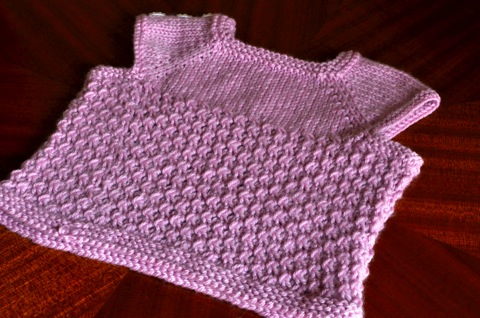 Tummy Warmer by Angela Tong
175ish grams Bendigo Woollen Mills Luxury 8ply, pink
3.75mm and 4.5mm needles

Start: January 2012
Finish: January 2012
Ravelled: here
In January a friend of mine had a baby girl. To celebrate this occasion, I wanted to knit a little something for the baby. Although I have knit a couple of things for babies in the past, I'm not really attuned to the patterns that are out there, so when I started looking at baby patterns this time round, the selection was slightly overwhelming. After some deliberation, I finally settled on Tummy Warmer from Petite Purls. As an aside, if you're in the market for babies' and/or kids' knitting patterns, I recommend checking out Petite Purls, there's some cute stuff there.
Knitting in pink feels a bit foreign to me. To be honest, knitting anything that isn't grey, blue, red or brown feels a bit strange. What is probably even more strange is the fact that I had pink yarn in my stash. It was left over from my 'selling knits at craft markets' experiment, and even though it was a heavier weight than what was called for in the pattern, I thought it would work well as a nice warm vest. As it turns out, I made the 3-6 month size with no alterations to the stitch or row count, and the vest came out with more or less the same measurements as it would have been using a 5 ply. It's definitely too big for her now, but I'm hoping that when the consistently cooler weather comes, it'll be the right size.
The honeycomb stitch used for the body of the vest makes it thick and warm, and adds a nice bit of texture. However, I found it a pretty tedious to work up. The yarn and needle combination just didn't seem to suit the stitch pattern; whenever I had to knit into the front of the stitch, I needed at least two attempts to get the needle through cleanly. I suspect that the relatively unpointy needle, the looser twist on the yarn and the tight twisted stitch created a perfect split stitch storm. If I hadn't been so good at splitting stitches, I think it would have been an even quicker knit than it was.
My favourite part of the vest are the buttons. They're not necessarily the world's prettiest buttons, but they do suit the vest well. The thing that makes them my favourite part is the fact I accidentally happened across them during the Pransell Declutterathon 2012™. I have no idea when or why I bought them, but I had exactly the number of buttons I needed, they were exactly the size I needed and they matched the vest. Serendipity.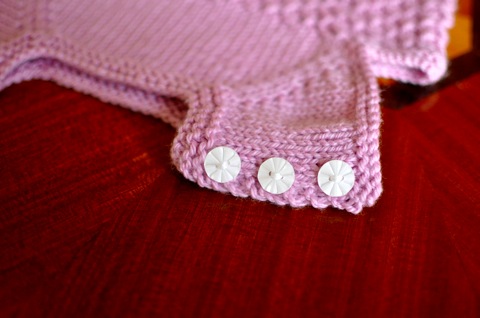 It's really quite a cute little vest, and these photos don't do it justice (my age old excuse for not taking good photos of something). I find taking photos of baby items quite difficult, as I don't have a small person to model them for me, and I'm not a fan of using dolls or soft toys as models. I could possibly go down the Posie Gets Cozy route and use a little person's clothes hanger… Any suggestions would be gratefully received, as I highly doubt this will be the last time I knit an item of clothing for a baby.
If you are looking for a little vest to make for a little person, it's worth considering this pattern. It's quick to knit up and the honeycomb stitch means that it's not boring (although I do suggest avoiding non-pointy needles and yarn that splits easily). It's been a little while since finishing it, but from what I remember the pattern is easy to follow. It's a winner.