Retina Burning
January 5th, 2009
I was keen to blog over the Christmas/New Year break, but being away from my computer meant that I had to save my enthusiasm until my computer and I were one again.
These are the socks I gave my sister for Christmas. I was aiming for retina burning, and retina burning is what she got.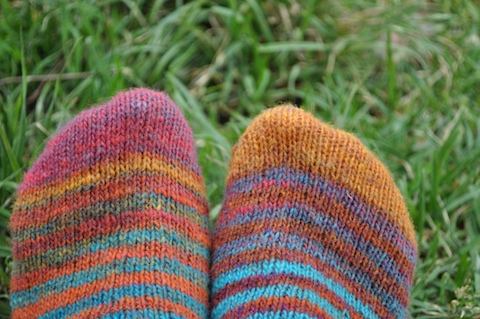 Generic toe up sock pattern by Wendy Johnson
0.75 skein of Noro Kureyon Sock, colourway 180
3.00 mm dpns
Start: November 2008
Finish: December 2008
The skein was split into two, and knit alternating stripes of three rows from each skein half. I could have made them a bit longer, but due to time constraints, I chose to leave them a little shorter. It was for the best anyway, as it meant that the Elijah twins could have scarves from the scraps.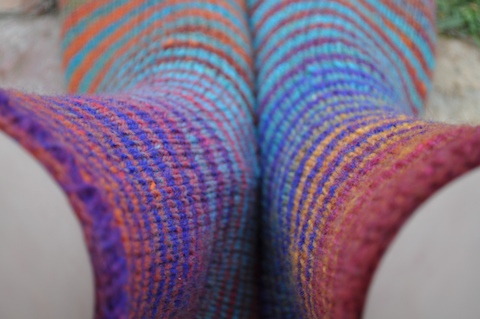 There seems to be a bit too much twist to the Noro sock yarn, as it had a tendancy to twist back on itself no matter how careful I was with it. I've worked with non-sock kureyon before and didn't notice the twisting issue. Besides that small annoyance, it was fine to work with. I must admit, I'm a bit funny when it comes to Noro. I'm not really into variegated/self striping yarn, but I like Noro's long colour changes. However, having said that, my favourite uses of Noro are when the colour changes is broken up by stripes or entrelac.