Monday, February 4th, 2013
I am ridiculously excited to have finally finished a project. My last reported project was the draft stopper in September last year, and the lack of finishing has made me a little antsy. Even though I'm not a craft factory and this hobby of mine is not about how quickly I can produce crafty output, it really does feel good, almost triumphant, to say 'I'm finished!'.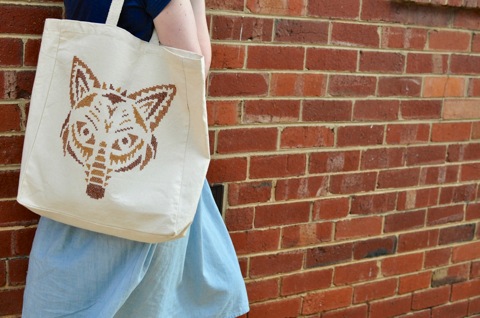 This bag was a lot of fun to make and I'm incredibly pleased with the result. One of the things I liked the most about it was how unfussy it was – the design is asymmetric so it didn't matter when my stitching became a bit… asymmetric. I also liked that the fabric was thick enough that I didn't need my embroidery hoop. Even though using an embroidery hoop isn't that much of a hassle, it was still nice to have one less thing to worry about when working on the bag.
I also liked taking photos of it as I finished with each colour. In my last post, I posted a photo after finishing all the dark brown sections. Here it is after completing the mid brown sections: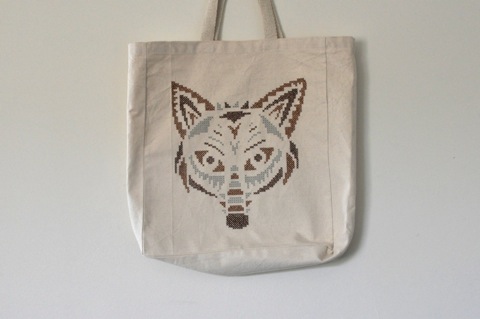 And with the light brown sections completed: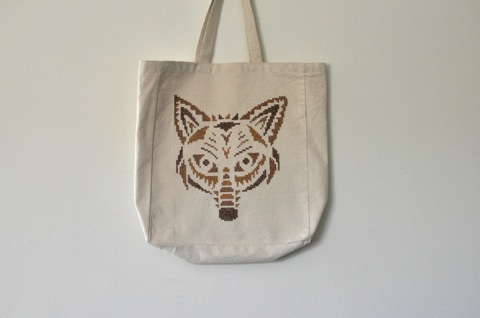 I love how striking the wolf is. Matt thought that it looked a little scary, but I can't stop looking at it. In fact, I'm considering doing all over again but in a wall hanging. Let's call it a potential rebound project.
The only area of concern for me was the amount of floss included in the kit. I had plenty of light and dark brown floss left, but I used every last skerrick of the mid brown. This was good from the perspective of using everything up, but not so good for my poor risk-averse nerves. If I had come up short, I would have been trying to find the same dye lot. Given that the kit came from the UK and I'm in Australia, I suspect I would have been out of luck. It's entirely possible that I lost some floss along the way, but it did cause me some slight heartburn as I neared the end of the floss.
Now that it's finished, I'm a little sad I won't be working on it again. Hence, the consideration of the rebound project. If you're in the market for an easy but slightly hypnotic embroidery project, this one is definitely worth considering.