Colouring with thread
October 9th, 2010
It was lovely to read everyone's comments about my Derwents, it's nice to know that their popularity wasn't confined to just my primary and high schools.
The Derwents were used to plan out my latest graphic design assignment: an A3 poster based on a song lyric of my choosing. I'm fairly inept at both drawing and using image editors so I had to be a bit creative in how I produced the poster. Luckily, I recently came across a lovely cross stitch blog, and had been thinking about doing some cross stitch. So, it was decided that cross stitch would be a good way to avoid drawing and image editing software.
Armed with grid paper, coloured pencils and youthful enthusiasm, I put together a pattern based on a cross stitch border found on etsy, vintage transfers found on Flickr and a particularly uplifting lyric from Morrissey. A week and a half later and with slightly less youthful enthusiasm, I had cross stitched this: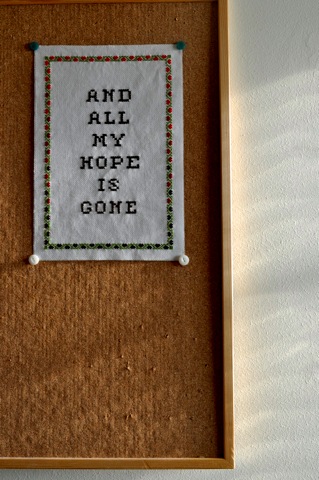 To save my sanity somewhat, the cross stitch is around A4 size, half the required size. Through the magic of scanners, I then made it A3. Although some of the texture is lost through scanning, it works surprisingly well as a paper poster. I won't bother posting the scanned version of it, as it more or less looks the same as the photo.
For those playing at home, the lyric is from How Soon Is Now? by The Smiths. My Dad seemed a bit dismayed when he saw the cross stitch today; I'm not sure he understood why I went to all the effort of cross stitching something so depressing. To me, that's the point of it — dainty is often associated with pretty or positive things, when it doesn't necessarily need to be that way.
Prior to this assignment, I had only attempted cross stitch once when I was ten. My auntie helped me to make a couple of book marks for my parents which I think worked out ok, if not a little wonky. There's still a fair bit of wonk to this piece, but I don't think it would be as good if it was perfect.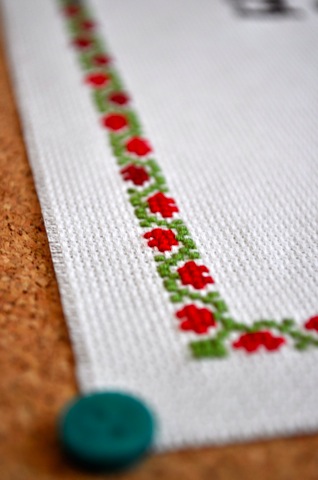 Irrespective of the mark I get for the assignment, I'm really proud of this work. It's not often I look at things I've made with a sense of pride. I'm often happy or satisfied with a knitting project or other non-crafty pieces of work, but pride is just that step further. The trick will now be to make sure I keep doing things that I feel proud about.