A modest sheep and wool show
July 18th, 2010
Yesterday Matt, Mum, my sister and I went to the Australian Sheep and Wool Show held in Bendigo. It was absolutely freezing yesterday, even with Henry to keep my neck warm, so most of our time was spent in the sheds, with only a cursory glance at the sheepdog trials as we scurried from shed to shed. Like last year, there was a sea of Ravelry badges at the show, but this time I felt a little less intimidated. Perhaps 2011 is the year I'll actually attend one of the events organised on Ravelry…
We didn't get the camera out at the show, which is quite fortunate given the battery was pretty much dead when I took this post's photos this afternoon. I apologise in advance for the photos — it's a very dull and dreary day making natural light hard to come by.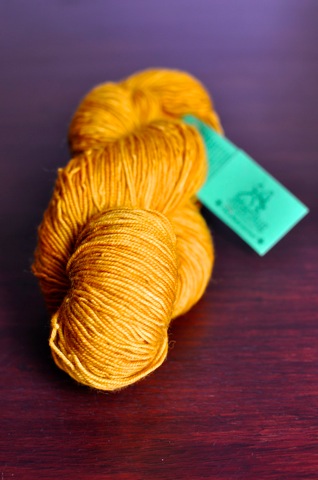 Last year, I only bought one skein of yarn. This year, I also bought one skein of yarn. Funnily enough, it was Colinette Jitterbug, the same as last year, but this time in Vincent's Apron. Vincent's Apron was the colourway I became enamoured with at the show last year, but I didn't buy it then because it didn't fall within my yarn buying policy guidelines (only buy yarn when I know what I'm going to knit with it. It might not make sense, but I'm running with it). However, I could not stop thinking about it. Luckily, this scarf pattern came along, which I thought would look great in Vincent's Apron. When I got to Sarah Durrant's stand yesterday, I couldn't find a skein of it anywhere, bringing on a cold sweat, but fortunately she had some in a tub at the back. So it only took a year of deliberation, but I finally bought the yarn I obsessed over at last year's show.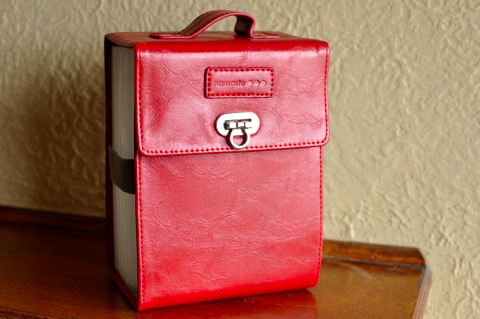 In addition to the single skein of yarn, I purchased a Namaste Circular Case from Stranded in Oz. I wasn't planning to buy one of these yesterday, but had been looking at them online for a little while. There's an ongoing battle between me and my circular needles, and up to this point, the circulars have been winning. I'm hoping this piece of modern knitting organisational weaponry will help me overcome my circulars' tangling and absconding ways.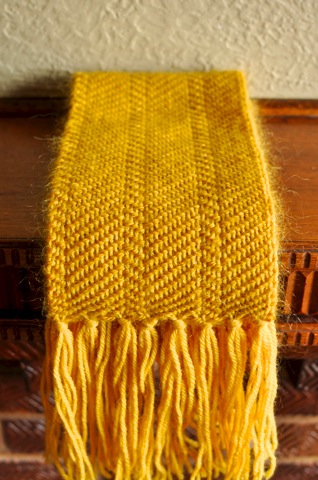 The last of my purchases was completely on impulse, which is very unusual for me. I bought this beautiful woven scarf from the Bendigo Spinners Weavers and Handcrafts Group's stand, for the princely sum of $25. It seems to be made from two different types of Bendigo Woollen Mills yarns — Rustic for the warp, and Mohair for the weft. It's a bit prickly around my neck, so it'll soon have a conditioner and wool wash bath which will hopefully soften it up. Besides that, I really love it. The colour is great and I like the herringbone weave a lot.
I feel a bit guilty for paying so little for it. Although I have absolutely no experience in weaving, I can't imagine that $25 is sufficient compensation for the person who made it. Perhaps I should have offered to pay more? It's quite a vexed issue.
So, there endeth my Sheep and Wool Show wrap up for this year. My purchases were pretty modest and pretty yellow, but I'm really happy with what I brought home.