Sunshiny garden furniture – a DIY tale
July 12th, 2010
Eleven months ago, we brought home an outdoor table and chair that was in need of a bit of love and attention. I posted a photo of them previously, but here's a reminder: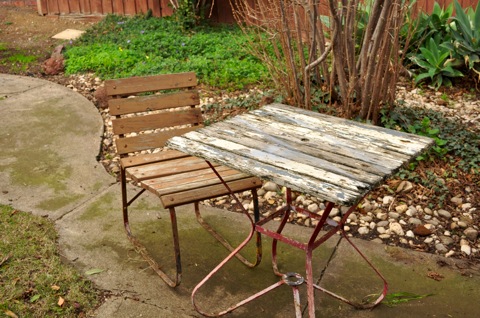 With a few repairs courtesy of my Dad and some sandblasting, powder coating, new wood, bolts, paint and a generous dollop of procrastination, the poor old table and chair was new again.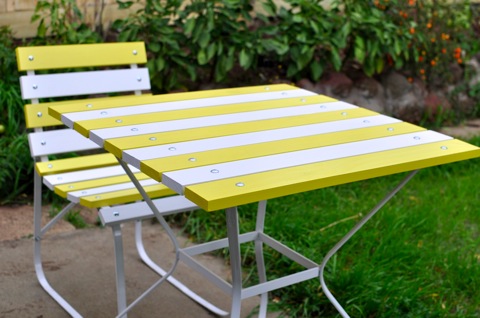 I am so so pleased with how they turned out. Initially I had doubts about the yellow we chose, but once assembled, it goes well with the white. The colours we used were Taubmans Yellow Spark and Dulux White on White, both in semi-gloss.
Strangely, the most difficult thing to procure were the bolts. A major Australian hardware chain that is the place to go to for these kind of items only had bolts with the manufacturer's logo on the dome. This simply would not do, so an extensive search commenced. Finally we found some logo-less bolts at an independent hardware store. They came in a brown paper bag, which made me happier than it probably should.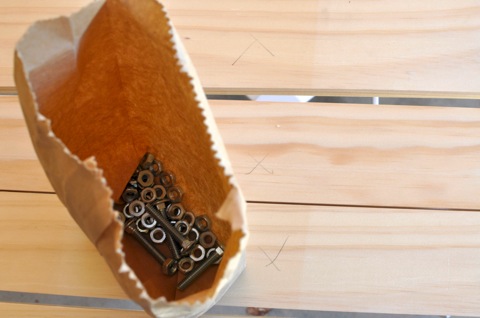 As there's only one chair and two of us, another one (or two or three) chairs are needed to complete the set. On the upside, there's more than enough paint left over — the smallest amount of paint we could buy was one litre, which was more than enough, even with multiple coats.
I could really get used to this furniture restoration caper. It seemed to take a lot longer than it should to finish, but I'm so proud of the end result. The perfect christening would be do sit outside in the sunshine with some tea and scones with jam and cream. I might just have to wait a little while longer for that to happen.