Sunday, September 27th, 2009
A little bit of knitting on the train, a little bit of knitting during lunch breaks, and before I knew it, this scarf was done.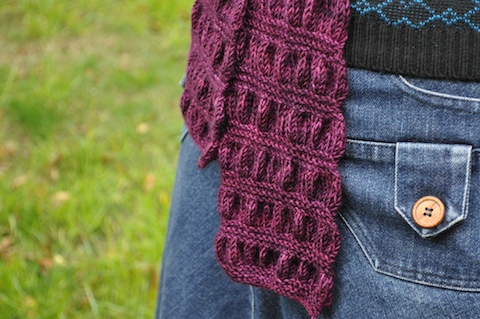 Gathered Scarf by Maryse Roudier
1 skein Collinette Jitterbug, Velvet Plum
3.5mm and 4.5mm needles
Started: September 2009
Finished: September 2009
Modifications: started with garter stitch rather than stockingette, and worked over 46 stitches rather than 48
Ravelryed here
All up this took 3 weeks at most, which is quite surprising given the yarn and needle size. I highly recommend it as a commute knit, even with the needle changes, as the easily-remembered pattern makes it a good 'pick up, put down' project.
While purple isn't my colour (the scarf is intended for someone else), Velvet Plum has made me fall for semi solids. I doubt I'd ever use semi solids for a larger item of clothing, like a jumper, but in small doses I think it's terrific. Particularly with this pattern, the variation in colour works in well with the gathered stripes.
Unfortunately I'm now at a loose end, commute knit-wise. None of my current projects are really suitable for commute knitting, yet I'm reluctant to start another. Quite the conundrum.