Preparing for the cold
March 12th, 2009
Writing an intro for a finished project is always nice, but my words feel clumsy today so it's straight to the photo.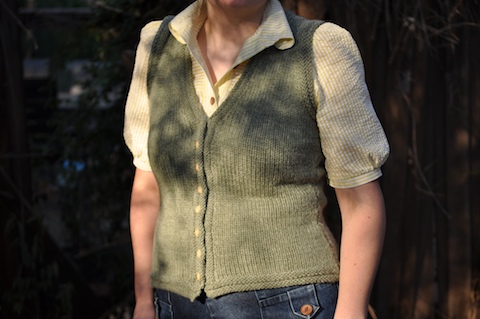 Cropped Tryst Vest by Kristen TenDyke
1.75 balls of Bendigo Woollen Mills Rustic 12 ply, Elm
4.50 and 5.00 mm needles
Start: January 2009
Finish: March 2009
I feel funny calling it Tryst Cropped Vest, because out of those three words, only 'vest' is still valid. I thought elm would be a nice colour for the vest, so I was going to make Rustic 12 ply work, but hook or by crook. Luckily, I got gauge straight away. Twelve ply is a lot bulkier than what I normally work with, but it'll be good for the cooler months.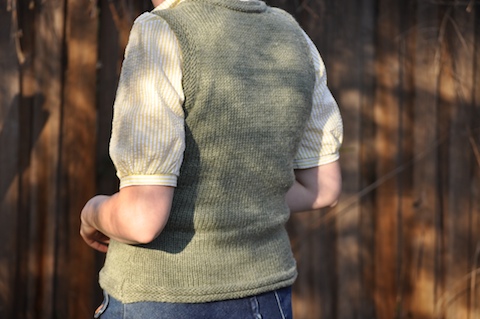 The vest was also lengthened so it ended at the hip rather than at the ribs. There is some shaping in the cropped version, so I mirrored that shaping in the rib to hip section. With the lengthening, there's now eight buttonholes rather than four.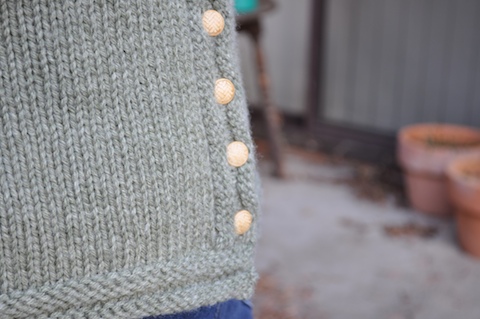 The only thing I'm a bit funny about is the buttons. The buttons used are the best ones I've found so far, and happily are ones I had stashed away after a buttonmania button sale frenzy a few years ago. However, I just don't know if they look right.
The vest is my most heavily modified knit to date, and I'm pretty happy with the results. It's entirely wearable, and it's given me more confidence to modify other patterns. Look out hefty stash of vintage leaflets.