Sunday, February 27th, 2011
Last week a momentous decision was made — it was time to run down my stash of desiccated coconut. My stash of desiccated coconut was first mentioned over a year ago, and despite my best efforts, it's probably increased since then. Last week I made Coconut Pullapart Rolls from Not Quite Nigella. They turned out really well, and next time I'll add some lime zest to the coconut filling.
Today I consulted my Women's Weekly recipe cards and came up with this delightful cake.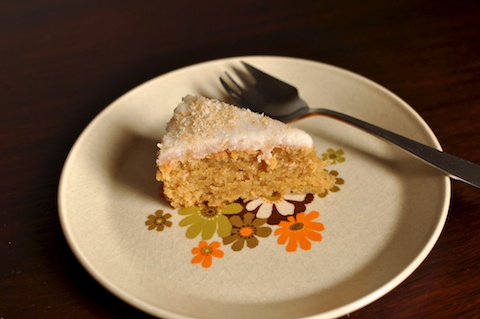 Toasted Coconut Cake
Cake
0.5 cups desiccated coconut
125 grams butter
1 cup of brown sugar, lightly packed
1 tablespoon golden syrup
2 eggs
a pinch of salt
0.5 teaspoon vanilla
1.5 cups self-raising flour, sifted
0.5 cup milk
Icing
1 cup icing sugar
1.5 tablespoons lemon juice
2 tablespoons desiccated coconut, extra
Preheat oven to 180 degrees celsius, and grease and line a 20cm round cake tin
Toast all the coconut in a frypan over low heat, being careful not to burn. Set aside two tablespoons for the icing.
Cream butter and sugar together until light and fluffy. Beat in golden syrup.
Add in eggs one at a time, beating the first in thoroughly before adding the second.
Mix in the coconut, vanilla and salt. Add in the sifted flour gradually, alternating with the milk. Mix well.
Bake for 35-40 minutes. When cool, ice with lemon icing, sprinkling the rest of the toasted coconut on top.
For the icing, simply sift the icing sugar and add the lemon juice. Mix until it's at a soft spreading consistency.
This cake is fantastic. The toasted coconut reminds me of the marshmallows from Darrel Lea, and the combination of brown sugar and golden syrup gives it a faintly caramel flavour. Although I followed the recipe this time round, it would work just as well (or better) with the fluffy lemon icing used on the ginger cake I made last year. It's a pretty moist cake which surprised me. I imagined that the crumb would be drier, but the all-knowing toothpick came out clean so it was done based on that test. That said, it wouldn't have hurt to bake it a little longer.
Now my desiccated coconut stash is much much lower than a fortnight ago, and hopefully I'll be able to keep it at manageable levels. I really dislike wasting food, and unfortunately it's really easy to do in my pantry with it's deep shelves. Previously I have tried to keep track of my pantry contents via a spreadsheet, but there must be a better way. Does anyone have any recommendations for pantry inventory apps for Mac? If not, I may need to have a word with Matt…