Monday, May 14th, 2012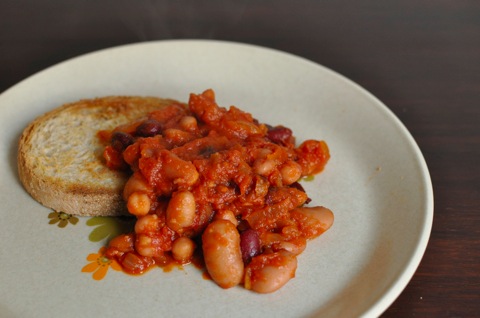 There's a cafe not too far away from my house called Little Deer Tracks. Among other things, they make very good baked beans. As much as I'd like to be eat breakfast there every day, it's not really possible or financially sensible. The only solution to this is to make my own baked beans for those times I can't enjoy Little Deer Tracks' baked beans.
The recipe is adapted from the DIY Baked Beans recipe on Taste.com.au. It's a little different to the beans I've had at Little Deer Tracks, but they're still good in their own way. This amount should easily feed two to three people if the beans are the main part of the meal, and four or more if it's a side dish.
Smokey Baked Beans
Ingredients:
2 teaspoons olive oil
1 small brown onion, diced finely
1 teaspoon smoked paprika (see notes)
1 tablespoon golden syrup
400 gram can of crushed tomatoes (see notes)
2 400 gram cans of 4 bean mix, drained and rinsed
salt to taste
Method:

Heat the oil in a medium saucepan over medium heat. Add onion and cook until it is soft, and golden brown in colour. This took around 5-8 minutes for me.
Add the smoked paprika to the onions and stir to coat the onions. Cook for about 30 seconds until the smoked paprika becomes really fragrant.
Add the golden syrup and stir to coat the onion/paprika mix. Let it cook for 30 seconds to a minute so the onion begins to caramelise slightly.
Stir in the can of tomatoes and bring to the boil. Once boiling, turn the heat down to a simmer. Allow the mixture to simmer until it starts to thicken up nicely. This took around 8 minutes for me. At this point you want the mixture to be thick enough to hold the beans, but not so thick that it becomes a paste.
Add the beans and stir through the tomato sauce. Cook, stirring often, for 2-3 minutes to allow the beans to heat through.
Add salt to taste.
Notes:
The smoked paprika adds a nice amount of smokey flavour and spicy warmth. For the smokiness without the spice, liquid smoke can be purchased online (we bought some from here) or at specialty grocers. I've not seen it for sale at either of the two large supermarket chains (but am happy to be corrected).
I used crushed, rather than diced, tomatoes in this recipe as I wanted a smoother tomato sauce. A sauce using diced tomatoes would be chunkier, but would probably require more cooking time to thicken.