The return of the Women's Weekly Recipe Card Challenge
September 20th, 2009
It's been far too long since last posting about a recipe made from my box of Women's Weekly Recipe Cards. This is not to say I haven't been using these cards; there are some recipes I've made many many times. I've just not been very good at documenting it.
Today's offering is Blackberry Swirls. They are like chelsea buns, but with berries. While they call for blackberries, being blackberry scrolls and all, I couldn't find canned blackberries at my local supermarket. However, they did have cans of mixed berries, which seemed to work well. For a change, I'm going to include the recipe this time.
Blackberry swirls – the mixed berry variation (from Women's Weekly Recipe Cards, circa 1970's)
Scrolls Ingredients:
1.5 cups self-raising flour
400g can berries (drain, but retain the syrup)
0.5 cup milk
125 grams butter
Sauce Ingredients:
0.5 cups white sugar
1/3 cups sweet white wine
30 grams butter
0.5 cups berry syrup
Preheat oven to 200 degrees celsius.
Sift flour and rub in butter until the mixture resembles breadcrumbs. Add milk, and mix to a soft dough. If you find the mixture is too wet at this point, add small amounts of flour until it's at a consistency where it can be rolled out pretty easily.
Place dough on a lightly floured surface, knead gently and roll into a 25cm by 35cm rectangle. Spread berries over dough, leaving a small border around the edges. Roll the dough up lengthways (so the roll is the length of the shorter edge of the rectangle). Make sure the berries are being rolled up in the dough and not pushed along! Cut into 2.5cm slices and place into a greased, ovenproof dish.
Put sauce ingredients into a saucepan. Bring slowly to the boil, stirring constantly until the butter is melted. Boil for 3 minutes. Pour the sauce over the scrolls and bake for 30-35 minutes.
You'll be excused for feeling sceptical of the recipe as you put the scrolls in the oven, as it sort resembles scroll islands in a berry sea. Well, it did for me anyway.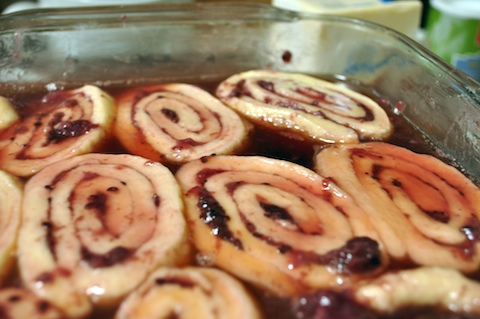 After coming out of the oven, the scrolls looked like this, making me instantly forget my scepticism. The sauce becomes a lovely syrup at the bottom of the scrolls, and gives a nice glaze on top.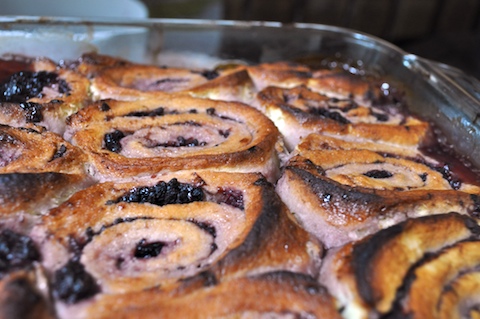 The original recipe suggests serving it with cream or custard. I had it with a cup of tea and it was just fine!