Crisp clutternut biscuits
October 7th, 2009
Every room of the house seems to be filled with clutter. Old documents and bills, knitting paraphernalia, video games, boxes, clothes, you name it, it's cluttering up my house. It's also getting quite frustrating – I simply do not know how I managed to let things get this bad (actually I sort of do… my old house had lots more storage than this one). It feels very wasteful. So I'm having a good old fashioned stocktake and purge. Seeing the eBay, op shop and bin piles get bigger and bigger is kind of satisfying, but also makes me realise how little thought I put into some of my purchases.
Clutter has also found its way into the pantry. As a household, we're really good at buying things we didn't realise we already had, even when we plan weekly meals. Luckily, this tends to be mostly longlife or non-perishable stuff that I know I'll use up one day. One of those things is desiccated coconut. Luckily (again) one of the ingredients that is used a lot in my Women's Weekly Recipe cards is coconut (and ginger too, but that's a story for another day).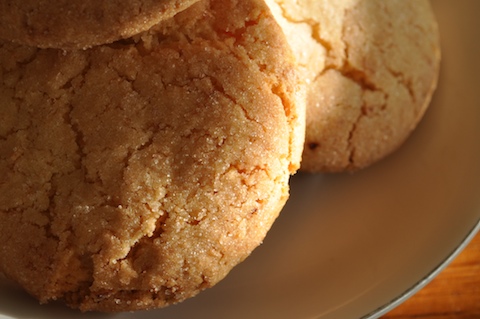 Crisp Coconut Biscuits (from Women's Weekly Recipe Cards, circa 1970's)
Ingredients:
125 grams butter
1 cup caster sugar
1 egg
2 cups self-raising flour
1 cup desiccated coconut

pinch of salt
1-2 teaspoons of milk
Sugar, for dusting
Preheat oven to 180 degrees celsius.
Cream butter and sugar. Beat in egg. Add in sifted flour, salt and coconut and mix well.
I found the mixture too dry at this point, so added in milk until it was at a consistency where it could be easily moulded into balls but didn't stick to my hands.
Roll teaspoonfuls into balls and press flat. Dip the top of the dough disc into sugar and place on a greased baking tray. Allow room for spreading.
Bake for 10 to 15 minutes, until lightly golden.
I got around 30 biscuits out of this recipe. If I were to make this again (which is highly likely), I'd use plain ol' white sugar rather than caster sugar for dusting. While you can see the caster sugar on top of the biscuit, I think the coarser sugar would look better.