Chatterbox
December 20th, 2009
Lots of blogable bits and bobs going on, but not enough time to post. It's a busy time of year I guess.
It was lovely to read about the things people only make around Christmas time. Gingerbread was mentioned a few times which made me wonder why my family doesn't bake gingerbread biscuits around Christmas time. We all seem to like gingerbread, so maybe it's a tradition that can be introduced (next year).
Here's another snacky thing that magically appears in my parents' fridge around about this time of year, peanut clusters. I feel a bit silly posting a recipe for this, but there's no harm in putting it up here.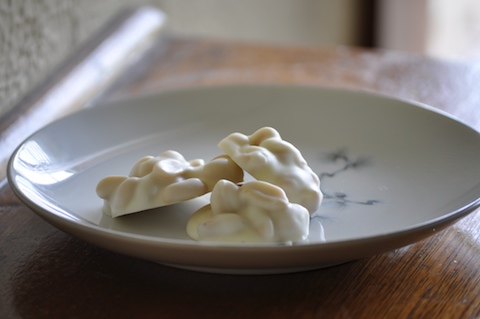 Peanut Clusters
375 grams chocolate. White, milk, dark all works well
200 grams unsalted peanuts
Line trays with baking paper.
Melt the chocolate completely. Stir in the peanuts, coating thoroughly.
Place teaspoons of the mixture on the baking paper and leave to set.
The best aspect of this recipe is how flexible it is. If you want the mixture a bit stiffer, add in more nuts or less chocolate, and vice versa for a cluster with a bigger pool of chocolate at the base. Don't like peanuts? Use another nut. Or dried fruit. White chocolate, pistachios and dried cranberries are a pretty nice combination.
I'd like to post one more Christmas recipe, but it's likely to be just after Christmas Day. Seems a bit silly, but I don't think anyone will mind too much!