Coconut Ice
December 7th, 2009
While not a particularly festive person, I think it's nice to hear about other family's holiday traditions. Christmases around here are a very quiet affair, just the immediate family and a very low key lunch. However, we do tend to make a lot of snacky things that aren't made at any other time of the year.
One of those is coconut ice. The smallest hint of it makes me think of Christmas. As mentioned in a previous post, the recipe we use is very simple; just desicated coconut, icing sugar, condensed milk and food colouring. Most years it was traditional white and pink, but sometimes Mum could be convinced to branch out to different colours.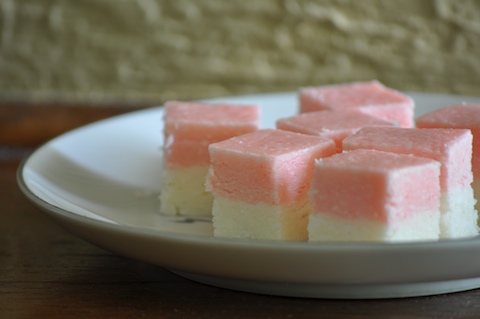 Mooncalf commented that the coconut ice recipe in Hope and Greenwood's book didn't turn out too well. Even though I'm sure everyone has their own favourite coconut ice recipe, here's the recipe I use.
Coconut Ice
3 cups desicated coconut
4 cups icing sugar, sifted
1 400g can condensed milk
red (or any other colour of your choice) food dye
Mix icing sugar and coconut together, then stir the condensed milk in thoroughly. Split the mixture in half. Press one half of the mixture into a lined tin (I used a 20cm by 20cm tin) and put in the fridge. Add a few drops of food colouring into the other half of the mixture and knead until the colour is even. Press the coloured mixture over the white mixture. Put in the fridge until set.
How many pieces it yields depends on how you cut it. I prefer smaller bits as it seems to go further and it's pretty sweet.
In the weeks before Christmas, I might put up a couple more recipes that only get rolled out during the holiday period. Do you have many recipes that only come out round this time of year?