Skyrockets in flight, Apricot Delight
December 11th, 2011
This year's desiccated coconut stashdown ended with a whimper recently when I realised I had exhausted my stockpile and needed to dash to the supermarket to replenish stocks. However, my pursuit for recipes that use desiccated coconut is unrelenting. A bit like a cop, gone off the rails, who pursues justice at any cost. I'll be making a pitch for a new TV show, The Desiccated Coconut Avenger, to TV execs in the near future.
This is the latest recipe involving desiccated coconut that I've been using. It's from Green Gourmet Giraffe, a vegetarian cooking blog I've only just discovered. Sometimes I can be a bit slow on the blog uptake.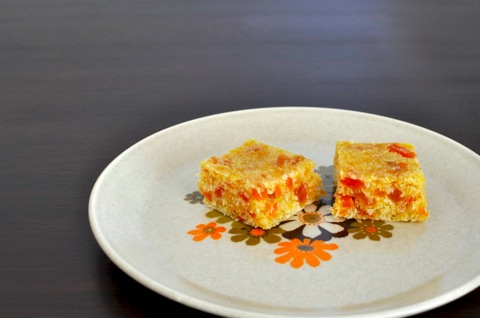 Apricot Delight (recipe adapted from here)
125g whole dried apricots, roughly chopped (see note)
125g dried apricot halves, finely chopped (see note)
0.75 cup boiling water
2 tablespoons of honey
1.5 cups desiccated coconut
extra coconut for coating (optional)
Place the chopped whole dried apricots, boiling water and honey in a small saucepan. Let the apricots soak for around an hour. Bring the mixture to the boil and gently simmer, uncovered, for around 10 minutes, or until the apricots have a jam-like consistency.
Blend the mixture up into a thick paste. It was too thick for my poor old blender to handle when I first made it, so I used a stick mixer the second time round. It worked like a charm. Add the desiccated coconut and the chopped apricot halves to the paste and mix well.
Press the mixture into lined small cake tin. The original recipe calls for a 15cm x 15cm cake tin, which I didn't have. I used a small loaf tin and it worked out fine. Refrigerate overnight.
If the mixture makes it through the night, cut it up into squares or bars. Toss in extra coconut if you so desire, but I found it was fine without the extra coconut.
Note: It's not necessary to use two different types of apricots. However, the first time I made this recipe I used dried apricot halves and found it pretty tart. Using the milder-flavoured whole dried apricots as the base nicely complements the pieces of the 'tarter' dried apricot halves throughout the mixture.
The two times I've made this recipe, it's barely made it through the overnight refrigeration (i.e. it's delicious). The very short ingredient list appeals a lot, and it's really easy to make. It reminds me a lot of Apricot Sun Bars which I used to love when I was little.
Even writing this post makes me want to make a batch. Sadly, these TV pitches won't write themselves…