Thursday, July 29th, 2010
Like many people, it was my Mumma (Grandmother) who taught me how to knit. I think I was around five or six when she taught me how to cable cast on, the knit stitch and to cast off. I liked knitting, but was never really that committed to it as there were toys to play with, trees to climb, books to read, and most importantly, my parents to annoy. I don't particularly remember any of my really early knits, besides a garter stitch scarf for my Dad. I was knitting massive 32 stitch rows and when I ran out of navy wool, I simply switched to black wool. It was never finished, and I suspect Dad's quietly pleased he never had to wear a rough garter stitch scarf with blocks of navy blue and black.
A few years later, the Country Women's Association visited my primary school and taught the grade five and six students to knit. So, the three grade five and six students (I went to a very small school in the country) filed into the staff room and were given brown paper shopping bags. In the shopping bags, there were a pair of needles (4mm if I remember correctly), yarn (Cleckheaton Country I think — it was definitely an Australian Country Spinners yarn), instructions on how to knit, and a pattern for a garter stitch beanie. Because I'd remembered my Mumma's wise words, I was soon off and away, knitting my first beanie. Except, I wasn't, and still am not, a hat person. So I made a camera case.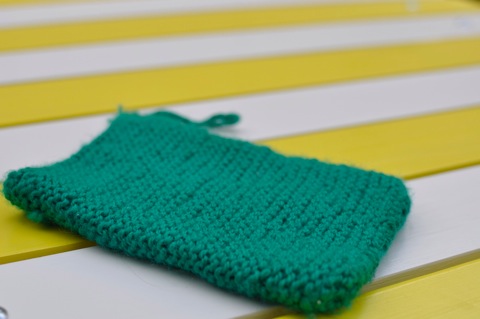 When I found it at my parents' house recently, I was pleasantly surprised by how it looks, over 15 years on. The tension's a bit off in places and there seems to be a short row in one place, but fabric's not too bad. The seaming's a bit rough; it looks like I tried to seam using a kind of mattress stitch, but it's a bit holey.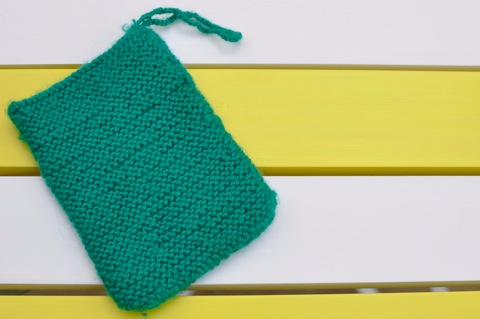 I made a drawstring cord and a little loop for the corner using finger knitting. Well, it's the finger knitting I was taught in school, which resembles single chain crochet. Sadly, the drawstring seems to be missing, but honestly I'm astounded I found the camera case at all.
It's not a particularly pretty piece of knitting, nor is it something I'll likely ever use again. However, it's not something I could bring myself to donate or throw out. It's a part of my knitting history.