Still
July 24th, 2010
Last night I discovered my table and chair was posted on Design*Sponge, which was not only a lovely surprise, but a nice way to end the working week (thanks for the heads up Debs!). If you've moseyed on over here on account of that post, welcome!
It was astutely pointed out last post that the blog has taken quite a sunny turn. So I don't get people's hopes up, here's a dull grey jumper I finished a couple of weeks ago: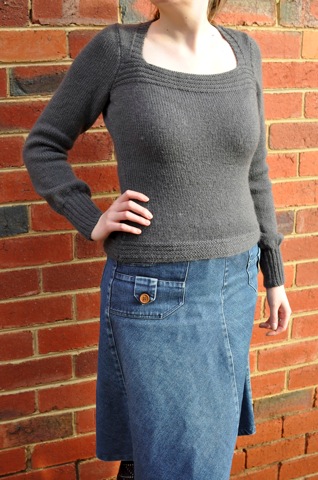 Still by Kim Hargreaves
2.75 balls of Bendigo Woollen Mills Boutique, Grey
4.00 and 3.00 mm needless
Start: May 2010
Finish: July 2010
Modifications: different yarn, smaller needles to get gauge (no lengthening required!)
Ravelryed: here
I mean dull in the nicest possible way, because I'm really happy with how this jumper turned out. The length is good, the waist shaping sits nicely and I really like the neckline. I was concerned the gathered sleeves were going to be a bit fussy for my taste, but they seemed to puff out a little less with the yarn I used. This might also be because of the sleeve cuffs, which despite my adherence to the pattern, seem a bit shorter than the version in the book.
The yarn was a limited run that came out a couple of years ago. I bought three balls almost as soon as I saw the shade card, because Bendigo Woollen Mills was, and to a certain extent still is, not known for their greys. I think the colour suits the pattern well, making it a little less girly than the book's version, which is a pastel pink. The yarn itself is a little rough, making it a wee bit prickly, but nothing I can't get used to. I have worn it a couple of times and it has started to pill around the sleeve cuffs. It would be preferable if it didn't pill, but I'm one of those odd people who gets a strange sense of satisfaction from de-pilling, so it doesn't bother me too much. It's a jumper that will get a lot of wear.
I enjoyed reading everyone's thoughts on the value of handcrafts. It's a recurring issue, but one that I doubt will ever be fully resolved. It is inherently difficult to price handcrafts — as Michelle mentioned, I think there's a tendency to price goods based on what the seller thinks the buyer will pay, rather than what's fair compensation for materials and time taken to make the item. I did this myself in my short foray into selling knitted items. Obviously, there is no point pricing something so high that no one will purchase it. However, to me it seems pricing of handcrafts is often based on the price of its substitute, machine-made or mass produced items. Perhaps (re)education is required for both the buyers, in terms of understanding the time required to acquire a skill and produce an item, and the sellers, in terms of valuing their hard-earned skills. Having said all that, it seems like quite an over-simplification for, as mentioned before, quite a vexed issue.