Friday, March 26th, 2010
Bottom's Up has been the tortoise to the Somerset hare, knitting wise. Somerset has at least had one mention on this blog and was knit up very quickly, slowing only because of my aversion to picking up stitches for the collar. Despite starting it in January, Bottom's Up hasn't been mentioned here at all and has trudged along, being mostly 1×1 twisted rib in the round, knitted on my work commute.
That's pretty much where the tortoise and the hare analogy ends. Except if I can't find my darning needles to weave in the ends on Somerset soon, in which case Bottom's Up will be finished first.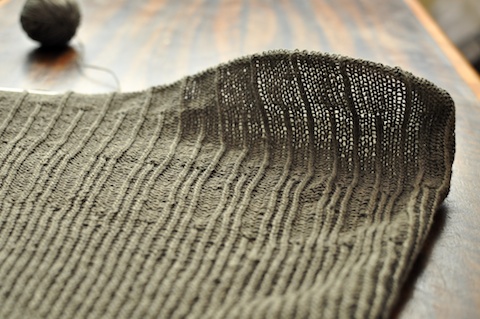 Anyway! This project has been my first encounter knitting with linen yarn (Louet Euroflax Sport). I was somewhat wary after reading how hard some had found it to work with, but I don't think it's too bad. The lack of give means it's a bit unforgiving tension-wise, but once in a rhythm it looks pretty good, and the knitted fabric feels quite nice.
The pattern itself is pretty arduous, but that lends itself well to commute, movie, or anything that provides distraction from the relentless ribbing. I hope I don't sound too down on the pattern, as there's absolutely nothing wrong with how it was written. I just overestimated my patience for ribbing, one of my least favourite knitting activities, even with the warnings in the pattern about it.
I'm perhaps a little premature in writing this as I've not finished it yet, but if you are looking to make Bottom's Up, beware of the rib! Alternatively, if you're a fan of ribbing, this is most definitely the project for you.