Tuesday, September 23rd, 2008
The descent into gift knitting season has commenced over here. A couple of birthdays are on the horizon, and I needed to whip up something quicksmart.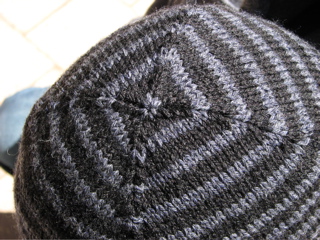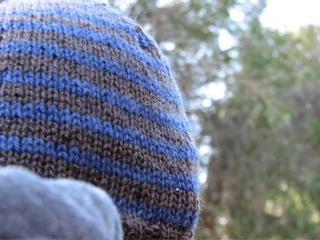 Turn a Square
a smidge of blue Lincraft cosy wool, a smidge of Bendigo Woollen Mills Classic 8ply in Raven and Anthracite and a smidge of Bendigo Woollen Mills Rustic 8ply in Graphite
3.75 and 4.5 mm dpns
Start: September 2008
Finish: September 2008
The hats are for are typical boys, so I wasn't very adventurous with the colours, but that's ok, because they were scraps of yarn that weren't doing anything anyway.
Even though the recommended yarn is worsted weight, 8 ply seemed to work fine without any modification to the number of stitches cast on. I opted for a 3.75mm needle for the ribbing, as I wanted to make sure it fit snuggly around the band. I had a bit of trouble getting used to the jogless stripe technique, but once I got the hang of that, the hats were done in no time at all. In fact, I highly recommend this pattern if you need to whip up a present quickly, and the giftee is a skull cap wearer.
Because it is the gift knitting season, and I don't know who reads this blog, I won't be posting about projects much until they're done and they are in the recipients' possession. Don't want to be ruining any surprises!