Apparently it's easy being olive green
September 7th, 2008
While knitting on the bus earlier this week, I noticed I was knitting with olive green yarn, while wearing an olive green coat and an olive green bag in my lap. Then I realised that my wallet is olive green, the last jumper I finished was olive green, two neglected projects in my cupboard are olive green, and I still have some olive green yarn stashed away. Even the first lot of yarn I bought after I started knitting again was olive green.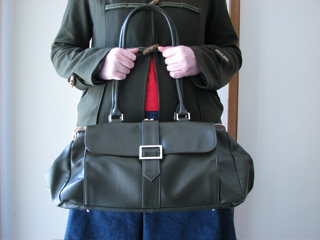 I really do like olive green, but making that mental list made my head spin. Once this current project is finished I will not be knitting with or purchasing any olive green yarn for a bit. It's only fair for the other colours in the spectrum. I hope that I'm not the only one with a subconscious obsession for a colour.
So yes, the current project. The Tyrolean cardigan from Sarah Dallas' Vintage Knits. This was an opportunistic project as I had the needles, yarn that knit to gauge, a number of options for buttons and the book, so it really didn't require any effort on my behalf at all.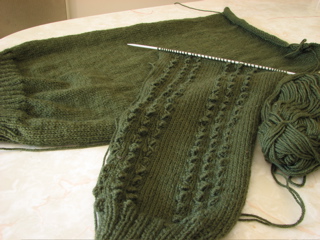 Despite my apparent love for all things olive green, I didn't really want to be olive green. I was inspired to give this pattern a shot, after seeing this version on Ravelry, but wanted to do it in some manner of grey. Having said all that, I'm fairly satisfied with the colour so far.
Progress has been fairly steady, with the back finished and the left front almost done as well. The body is a couple of centimetres longer to accommodate for my slightly longer torso, and I think I'll give the embroidery a miss.