Sunday, September 2nd, 2012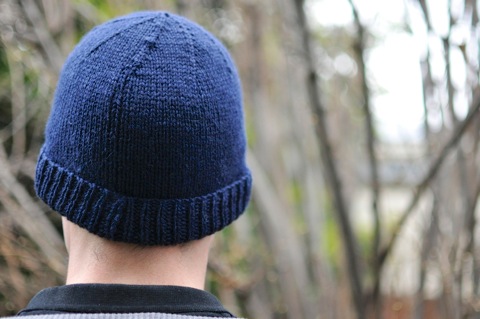 Long Beanie by Woolly Wormhead
75g Jo Sharp DK, navy
4.00mm needles
Started: July 2012
Finished: July 2012
Modifications: Used lighter-weight yarn, cast on more stitches, knit the 'body' longer
Ravelryed: here
It was recently suggested that my Poppa might want a handknit beanie to tame his unruly hair. My first thought, which may result in me being disowned by the knitting community, was that a beanie might exacerbate the unruly hair situation by giving him hat hair. Very shortly after thinking that, I started looking for a basic beanie pattern.
There's not too much to say about this beanie as it's simply 1×1 rib paired with plain ol' stockinette. However, I did like the alternate cable cast on used in the pattern. The first cast on I learnt was the cable cast on, and as versatile as it is, it does end up being a bit tight at times. The alternate cable cast on is much stretchier and I think I'll be using it in the future for other beanies and top down socks.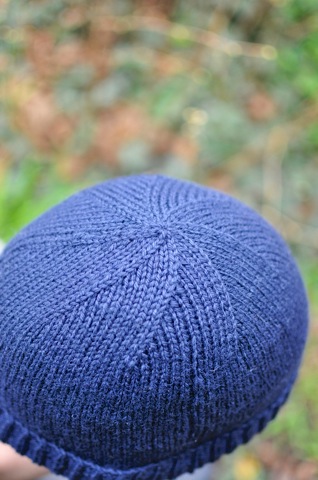 The modifications I made to the beanie were fairly minor; I cast on more stitches because I used an 8ply yarn rather than the suggested 12 ply. I also knitted an extra 1 or 2cm before beginning the crown decreases. I wasn't sure how long Poppa likes his hats to be, but in this instance I thought it better for the beanie to be too long than too short. A long beanie can be remedied by rolling the cuff up higher, a too-short beanie generally means cold ears and annoyance.
The Jo Sharp 8ply has been lurking in my stash for longer than I can remember. I don't really remember when I bought it, besides it being during my university years, but I do remember the act of buying it. There was an op shop that I used to often visit after classes, and I always sought out the craft section first. Usually the yarn selection was abysmal, but on this day there was a grab bag of yarn which included four balls of Jo Sharp DK. The grab bag cost less than the retail price of one ball of Jo Sharp DK at the time. I remember trying very hard to not show any outward sign of the adrenaline rush that I get (then and now) when I've found something in an op shop that I've wanted for a long time. At the time, Jo Sharp was one of those desirable yarn brands (Rowan was another) that I really wanted to try but could never justify the expense. It was a real find. It's funny thinking back on that now, because as it sat in my stash for years, it went from being 'that great yarn that I bought really cheaply at an op shop' to 'another 200 grams of navy 8ply I need to find a use for'.
As far as navy 8ply yarn that I needed to find a use for goes, I think it worked well as a beanie. The fabric had a slightly rough hand before blocking, and it softened slightly after giving it a soak in wool wash. I think it's also going to be quite hard wearing and I'm hopeful that it has good hair taming attributes. Initial reports suggest that it fits well, the colour is aesthetically pleasing, and that it covers Poppa's unruly mane well. Who needs Brylcreem when you've got a hand knit beanie?