Proud as punch
September 13th, 2008
I've been feeling a bit 'meh' about the projects I've worked on recently. I like them all well enough, but didn't really feel a sense of accomplishment that I usually feel. This project, however, I'm pretty pleased with.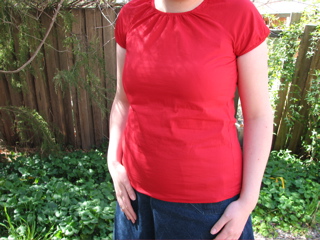 Vital Stats:
Simplicity 3835 (a Built By Wendy pattern)
Red cotton poplin from Spotlight
Sewing has been something I've wanted to try for some time. I've made a couple of things in the past, but this is my first attempt at a garment. I didn't find it too hard to do, even setting the sleeves in was ok. Some of the seams are a bit wonky, but the elastic in the neck and sleeves hide a multitude of sins (I think). Once it warms up a bit more, I'll definitely wear it, and I'll use the pattern again in the future, perhaps with some patterned fabric.
Next up, sewing wise, is a skirt. I'm not a big fan of elastic waists, and it might be too early to attempt a zip, so maybe I'll have a crack at a wrap round skirt.