Madness, part two
January 12th, 2009
It's cooled down a bit since my last post, but it's still a bit warm to be even thinking about, let alone knitting, beanies. However, I wanted a break from Christmas knitting and I knew this would be a quick project, so I went ahead and did it anyway.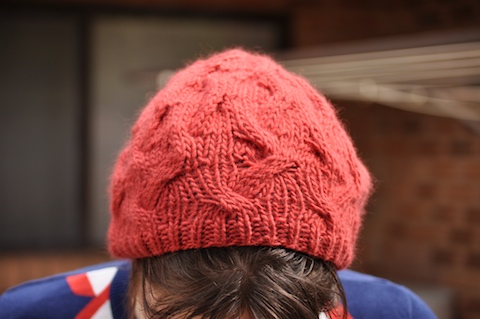 Star Crossed Slouchy Beanie by Natalie Larson
0.75 skein of Malabrigo Worsted, American Beauty
8.00 mm Addi circulars
Start: December 2008
Finish: January 2009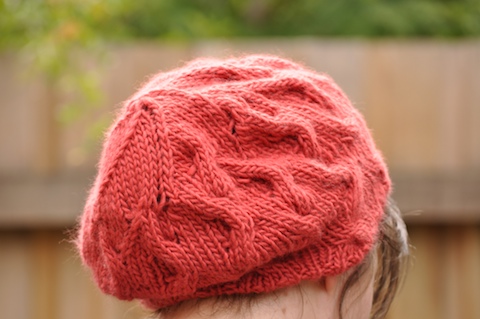 This is also an unusual project for me, as I knit this for myself and I don't see myself as a hat person at all (even though sometimes I would like to be). This seemed like a good way to ease myself into maybe wearing hats in the future.
This project was a good way to revisit cabling without a needle, which I learnt to do a couple of months ago. The cables in this were a little more fiddly, as I needed to drop three stitches off the needle as opposed to one stitch last time, but it still worked fine and it still seems to be less fiddly and quicker than using a cable needle.
It's the first time I've used Malabrigo, and it's really a lovely yarn to knit with, and creates a lovely soft fabric. My only fear is that the attributes that make it so lovely will also cause it to pill a lot. Only time will tell.
Next up, the girl who knit a scarf in the middle of summer!