Friday, March 23rd, 2012
Public Service Announcement: this really is a post all about this year's Bendigo Woollen Mills shade card. It contains spoilers, but may also cause drowsiness when consumed.
The month of March is full of excitement and anticipation for me, as it's when the new Bendigo Woollen Mills shade card arrives. I don't think I've explicitly mentioned it, though it might be already apparent; Bendigo Woollen Mills is my 'go to' brand of yarn. Many of my FOs are from BWM yarns, and their yarns make up a large part of my stash. I have a somewhat love/hate relationship with their colourways (there are often more insipid colours than you can poke a stick at), but it's reasonably priced, decent quality, and there are enough decent colours to get by. Nevertheless, there's always a little bit of nervousness mixed in with the excitement of receiving a new shade card, wondering which of my favourite colourways have got the boot this year.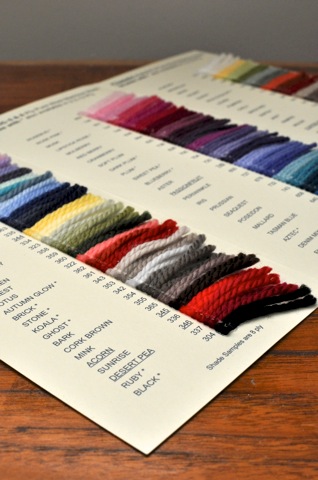 This year's shade card arrived yesterday, and it was out of the envelope quicker than you can say 'I've got a golden ticket'. Just for fun, here's a summary of changes between the 2011 and 2012 shade card:
Luxury
Orange (shade number 330), Oceanic (331) and Red Earth (364) discontinued
Sunflower (yellow, 344), Acorn (dark brown, 345) and Desert Pea (red, 346) included
Frost (312), Purple Storm (367) and Brick (361) included in the 10 ply range, with no existing 10 ply shades discontinued
Classic
Feijoa (615), Mid Green (655) and Mayfair (656) discontinued
Passionfruit (purple, 749), Coffee Bean (red-brown, 750) and Burnt Rose (pink, 751) included to the 5 and 8 ply ranges
The 2/3/12 ply range remains the same
Alpaca
Replaced by Alpaca Rich, a 60/40 Alpaca/Wool blend. The colourways aren't particularly comparable
Rustic
Russet (938) discontinued
Carbon (black, 929) included
The biggest change this year is the replacement of the pure Alpaca line with Alpaca Rich, an alpaca/wool blend. I don't tend to use alpaca all that much so I don't really have any thoughts either way on this change.
The changes that I took most notice of were in the Luxury colourways. I'm sad to see Oceanic go, as I thought it was a really nice shade of blue. Although I'm suffering from a stash management problem at the moment, I may have to stock up on some 4ply before it's gone for good. The three new Luxury colourways, Sunflower, Acorn and Desert Pea, are of interest. Acorn is the nice rich dark brown that the Luxury line has needed since it was released. I suspect it will be fairly popular; hopefully popular enough that it sticks around for a few years. Sunflower and Desert Pea also look like good colourways, but they're two colours that I'd want to see in the ball before buying. Shade cards are more useful than computer screens when looking at colours, but sometimes they're not quite enough to get a good idea for what a particular colour will look like as a whole garment.
So, that's the BWM shade card for this year. If you also receive their shade cards, I'd love to know what you think about this year's card.