Monday, July 28th, 2008
I really don't have much to say about Liesl, except that I'm delighted with her, and a little disappointed it's too cold to wear her out at the moment.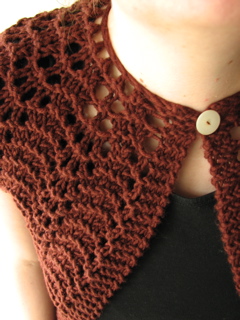 Vital stats:
Liesl
around about 6.5 balls of Alps Merino Washable, 482 (brown)
7mm 100cm circular Addis.
Start: June 2008
Finish: July 2008
I liked that the pattern has scope for modifications based on how long you wanted the sleeves and body, and how high you wanted the neck. I really enjoyed being able to choose my own adventure.
An added bonus was the fact that I only had to buy the pattern, and the thread to sew the button on. Not exactly sure why I bought this yarn originally, I suspect it was an episode of dilated pupil 'I must have this yarn because it's so cheap' that I seem to suffer from every now and again. It had been marinating in my stash for around 2 years, I had no idea what I was going to use it for.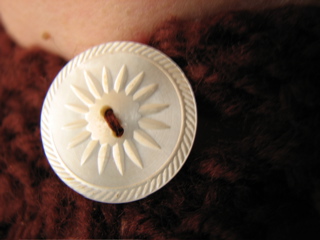 The button was from a jar of buttons I bought at a garage sale ages ago. I never noticed it before, it was only when I was going through my button collection to see it anything suited that it leapt out at me.
Liesl was my first experience with a top down jumper, and I think I'm hooked. Being able to try it on while you're knitting is possibly the best thing ever.