The sea the sea, the stockingette sea
September 19th, 2010
A more organised blogger might have a few blog post ideas squirrelled away for times where there's not much to blog about. Sadly, I'm a fairly disorganised blogger, so I've let the blog go fallow again. I have been busy knitting while I've been away though.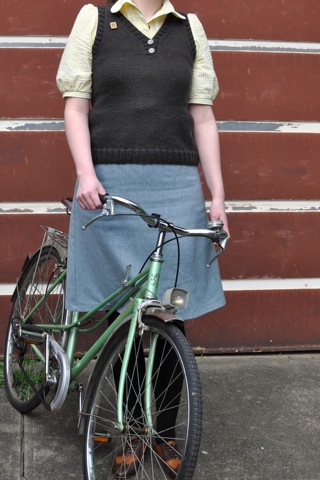 Grandfather Vest by Veronik Avery
1.25 balls Bendigo Woollen Mills Classic 8ply, Anthracite
4.50mm needles
Start: August 2010
Finish: September 2010
Modifications: different yarn, and that's it!
Ravelryed: here
As soon as I saw this vest, I knew I had to buy the book that it's from, Knitting 24/7. It's a book that's full of good staples like scarves, jumpers, shawls and socks, so although I primarily bought it for the vest pattern, there are enough interesting patterns to make it a good buy (especially if purchased via the wonderful Booko).
The vest pattern is very straightforward as it's knit in the round up to the armholes. I think that's the reason why its completion snuck up on me — it's very easy to get into a trance-like state knitting stocking stitch in the round. Before you know it you're staring at a pretty much completed vest that just needs buttons sewn on to be done and dusted.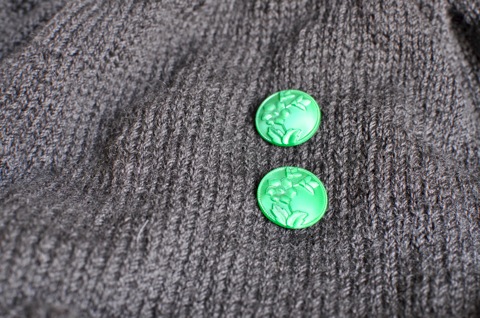 I was originally planning to use a pair of lovely green glass buttons that I received for my birthday last year. However, while in my trance-like state, I decided that the grey/brown fabric and the green weren't meant to be together. This left me in a slight state of indecision as I hadn't considered any other yarn/button pairing, but then these grey buttons jumped out at me as I was sifting through my button collection: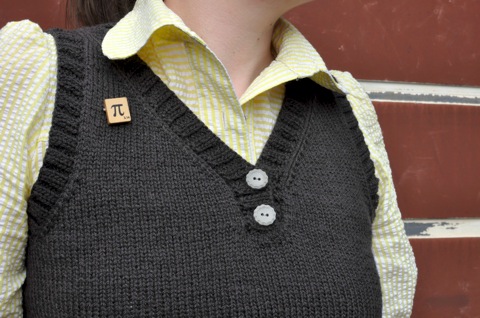 The yarn used was probably the oldest yarn I had stashed away, so it fit in nicely with the 'first in, first out' stash theory. It was purchased in either 2004 and 2005, and was leftover from a hat and scarf I knit for a friend. While it's a good policy to make sure there's more than enough yarn to cover the project you're working on, my aversion to running out of yarn resulted in my having around 400 grams extra, which is a tad excessive. Having said that, these leftovers have given me a very wearable item of clothing, so my whinging is minimal.
The colourway, Anthracite, is a bit of a strange one. Under some light it looks quite grey, and in others, very brown. I think it's a colour that was produced for only one or two seasons which is understandable — it was very hard to get a good idea of what the colour was like from just the shade card.
I'm a little disappointed with the fabric I produced with this yarn, as it's a bit uneven in places even after blocking. I've used Classic 8ply before and gotten very neat results so I'm at at bit of a loss to explain why it's not so good this time round. Hopefully it'll even up as I wash and wear it.
It seems my trance-like state was very productive, for as I was creating round after round of stocking stitch, I decided to make the cabled jumper for Matt rather than the striped raglan. As much as stocking stitch makes for good commute projects, I found myself wishing for something a bit different. Something with cables should scratch that itch, even if it flies in the face of 'first in, first out'.