Tuesday, May 24th, 2011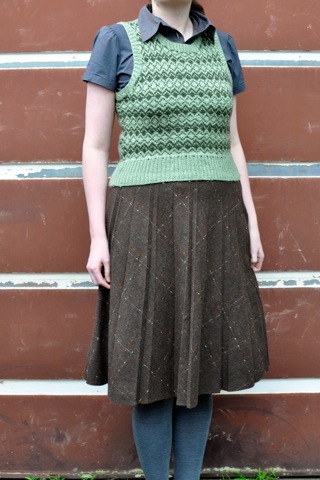 This is a vest made not long after I took up knitting again, and it's one of my favourite knitting projects. When I started knitting again, I gravitated towards vintage and retro patterns. As it happened, I was a voracious op shopper at that time, and the op shops I frequented had a really good supply of patterns from the 40s-70s. The pattern for this vest was from the English Woman's Weekly from 9 November 1974.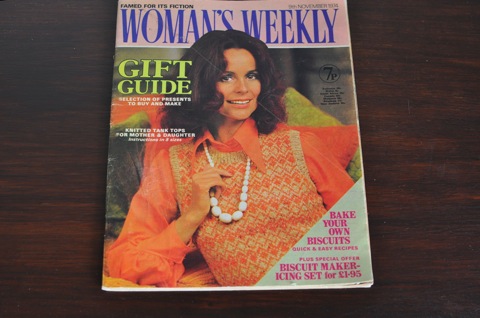 The colour combinations suggested in the magazine included grey and blue, amber and rust, oatmeal and sage and turquoise and grey. I was going through a green and brown phase at the time, so used a light green and olive green 5ply from the Bendigo Woollen Mills back room.
It was my first attempt at colourwork, and even now I'm pretty impressed with how it turned out. The knitting's quite even and there's pretty much no puckering. However, I never wear it because of a few rookie mistakes. The biggest problem is that it's too short. This is probably because I used a 5ply instead of an 8ply yarn, and also suspect 'gauge swatch' was some manner of strange term I'd never come across. My increases are a bit… holey, even though I'm sure I knew how to do bar increases. So, while there's not actually many mistakes, they're pretty noticeable ones.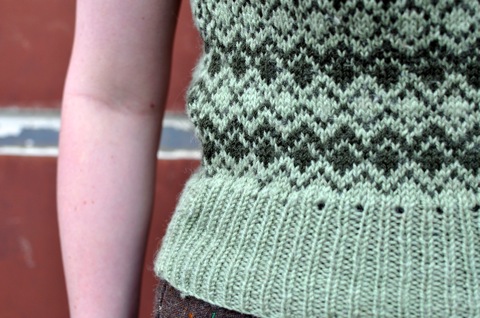 All that said, I can't bare to unravel it. Even though it just takes up precious wardrobe space, I still feel proud when I spy it under the piles of knitwear. I definitely want to knit the vest again, but with 8ply and after a gauge swatch. It's also a project that makes me feel a bit sad. I think it was a fairly adventurous knit for a relative beginner, and it makes me wonder where that sense of adventure went; after all, it's only yarn and patterns are merely serving suggestions…
On the topic of serving suggestions and a sense of adventure, the magazine didn't just have a snazzy vest pattern. Amongst other things, it also had a fantastic ad for a well loved foodstuff: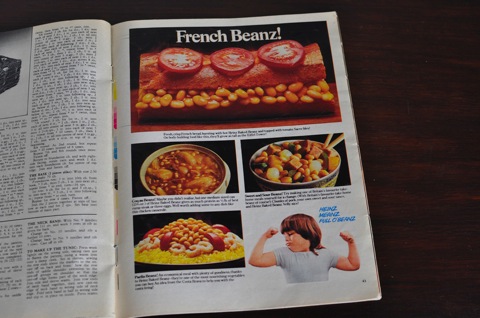 Anyone for paella beanz?