2011: the year of the knee sock
May 15th, 2011
While deliberating on the fate of my Kalajoki socks, I started on another pair of knee socks. This year seems to be the year for making socks for myself, something I've never done before. It's also perfect weather for knee socks; Autumn is barely a blip of a memory now as the very chilly days have begun. As I walk to the tram stop each workday, I think about how good it'll be to have some knee socks to provide an extra layer of protection against the cold.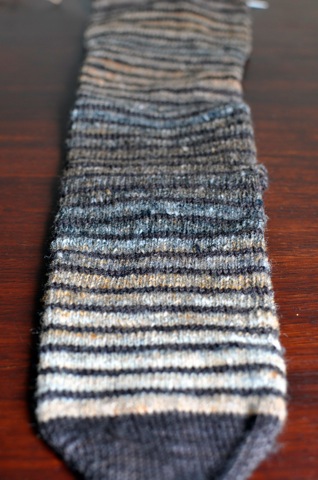 The pattern used for these socks is Laura Chau's Delicious Knee Socks. It's a good pattern, this one. While the sock itself is a fairly basic toe up, there are lots of foot width/foot length/calf width/leg length combinations which makes it very adaptable.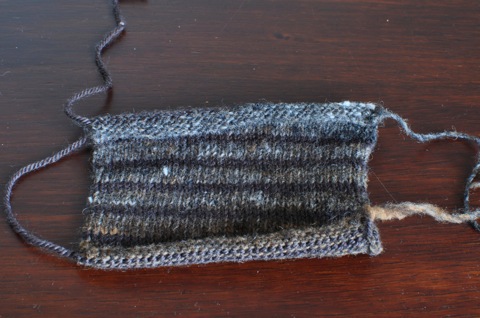 Getting a start on these socks has meant finally using some Noro Kureyon Sock I was given for my birthday a couple of years ago. Finding a good brown to stripe with the Noro proved to be quite a challenge, however Sweetgeorgia yarns came through with the goods with their Tough Love Sock in the espresso colourway. The swatch provided some concern as there wasn't quite enough contrast between the Sweetgeorgia and the Noro for my liking. As it turns out, I swatched with probably the darkest part of the colourway; the lighter parts look really good against the chocolatey brown. With the lighter colours around it, the darker sections, which didn't look so great in the swatch, look fine in the sock.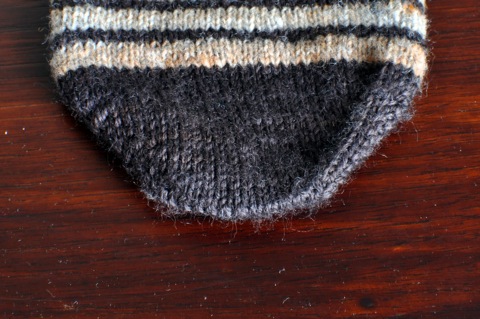 It almost feels like a waste to use the Sweetgeorgia with the Noro. The socks are turning out well, but I'm not getting a good feel for the yarn as I only get to use it in two round lots, with the exception of the toe, heel and cuff. That said, I have gotten a good feel for the espresso colourway and I'm completely enamoured with it. So much so that the search has started, and has maybe ended, for a way to use that colourway again. The frontrunner is the Callie Bib Tee, using Sweetgeorgia's Merino Silk DK. This is quite an expensive yarn for me, but it's amazing what a fairly spectacular appreciation of the Australin dollar can do for your yarn budget…