Sunday, November 28th, 2010
Last weekend, I had every intention of taking a photo of the pile of neatly blocked pieces of Matt's jumper, but I got a bit excited and started seaming instead. As my seaming-in-progress photos look like yarn monsters rather than almost-jumpers, I shall instead write about my latest bout of dufferism (a disease for which I'm convinced there is no cure).
Before getting to the dufferism, there is a backstory. As a kid, I used to page through Mum's sets of craft books. One set, the name of which name I cannot remember (I'd be forever grateful to anyone who could tell me what they were called) had white vinyl covers with gold writing, and the other was Golden Hands.
Both sets of craft books went to the op shop during my teens, and were almost forgotten until I saw an almost the complete set of Golden Hands books at an op shop a few years ago. My strong sense of nostalgia never fails me, so I bought the almost complete set on the spot.
Old craft books are a wonderful mix of comedy, cringe and good ideas. I decided that this vest pattern from Golden Hands Book 1 fell into the last category.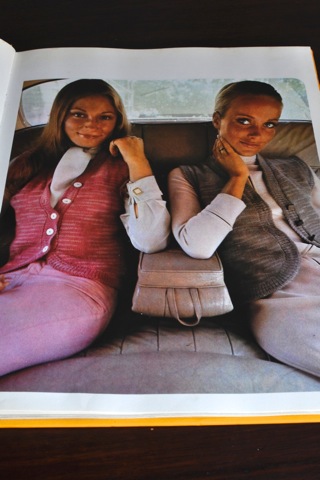 The pattern suggested that I'd need less than 200 grams of 8ply to make the vest. I was a bit sceptical of this claim, particularly given that there was no yardage accompanying the yarn requirements, but I had some stashed Bendigo Woollen Mills Rustic 8ply in Graphite that I thought would work with the pattern. It seems I was right to be sceptical, as I'm not even half way through the back and there is no way I will have enough yarn to finish the vest.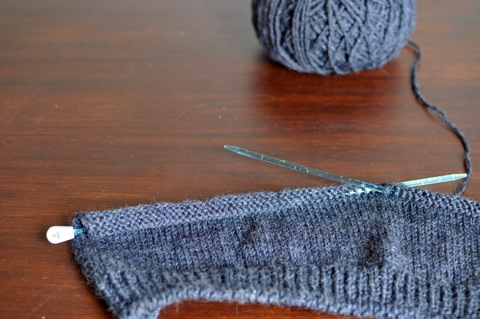 As far as I can tell, I have three options. I can frog it and forget about the whole episode, buy some more yarn, or frog back to the ribbing and make a striped vest using some more stashed Rustic in a different colour. The first option's been dismissed already but I can't decide between the two remaining options. I bought the graphite Rustic some years ago and the label's long gone, so matching dyelots isn't really possible. There's generally little variance in Bendigo Woollen Mills dyelots, but it's still a bit risky. The alternative is to use some stashed Rustic 8ply in flannel, a light grey.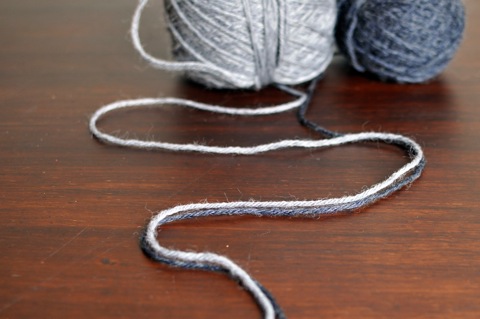 Graphite and flannel go quite well together, and it would help use up more stash, but I'm not sure if I've got much in my wardrobe that goes with a striped vest. At the moment I'm leaning towards flannel stripes, but I'm not 100 per cent sold on the idea.
Dilemmas dilemmas. Sometimes it's hard being a duffer.