Thursday, August 28th, 2008
I feel a bit bad for this project. I didn't really want to knit it, but wanted a knitting project to take with me on a long bus trip. I didn't really like how the crepe construction of the yarn looked in garter stitch. But now it's done, I'm pretty happy with it.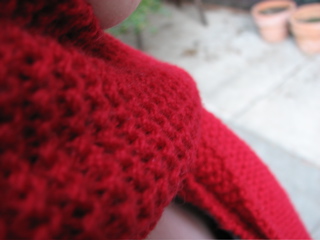 I've had a red garter stitch scarf on my mind for a while, and although I cannot seem to photograph red well to properly show it off, I thought it was the perfect red.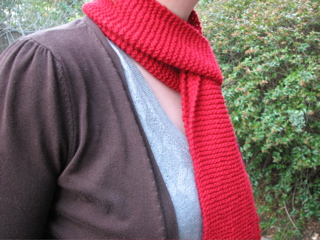 Vital Stats:
Vanilla Scarf
around about 3/4 of a ball of Bendigo Woollen Mills Classic 8 ply, cherry
5.00mm circulars
Start: August 2008
Finish: August 2008
I like to call it a vanilla scarf, because garter stitch is quite plain, like vanilla, but it doesn't stop it from looking nice. I'm still not 100 percent on using crepe for garter stitch, but I love the colour so much that I can look past that little annoyance.
It was quite exciting to discover that I can now start taking photos after work, because it's becoming a lot lighter now that Winter's on the way out. Usually I take all my photos on the weekend, but these photos were taken after work a couple of days ago. Granted, I was still in my work clothes, but I'm putting that down to the excitement of it being light outside at 5pm, rather than laziness.