First
January 9th, 2010
The first finished object for this year, with photos taken with the first of this season's tomato crop during the first heatwave for the year.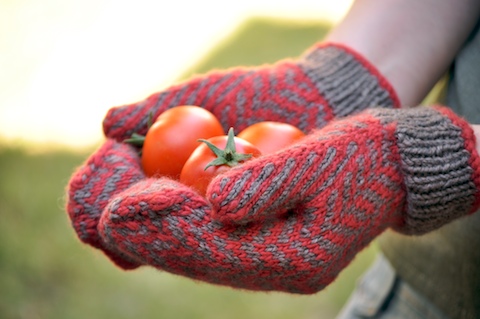 Herringbone Mittens with Poms (PDF) by Elli Stubenrauch
Scraps of Malabrigo Worsted, American Beauty and Lincraft Balmoral Tweed, fawny colour
3.75 mm and 4.00mm needles
Started: December 2009
Finished: January 2010
Modifcations: lengthened hand and thumb sections, left off the pompom
Ravelryed here
To anyone who saw the photos being taken today, they must have wondered what on earth that girl was doing, wearing mittens and toting tomatoes when it's hot outside. These photos make up for any slippage in our standing around the neighbourhood, right?
Given the weather, it might be surprising to know these mittens were borne out of necessity. It seems I don't have that much in the way of proper winter clothes, an issue that will become most apparent when we're in Japan next month (!!!). The mittens, while not solving all the winter wardrobe deficiencies, will hopefully keep the winter chill off my fingers somewhat.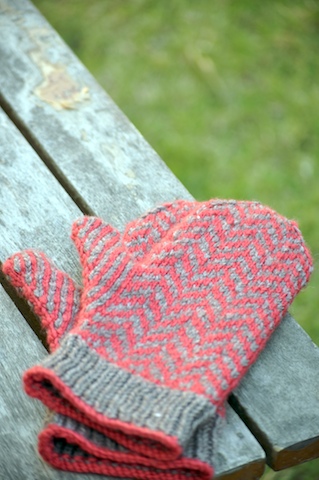 It pleases me greatly that the mittens were made from yarn left over from other projects. I was concerned about whether I'd have enough yarn for the mittens, and whether the yarns would go together, but both concerns were completely ill-founded. There is still some Malabrigo left, and the yarns worked up together really well. Using the Malabrigo at the edge of the cuff might not have been the wisest choice, as I suspect it'll pill or even felt a bit.
There's been a noticeable slow down in knitting on account of the warmer weather. So much so that it took a concerted effort to get the thumbs finished and ends woven in and I've been contemplating doing some sewing instead of knitting. The horror!